Door handles can determine the overall style of your doors – add a traditional brass door handle to a wooden door and you'll have a very different look than if you added a sleek chrome one. If you're purchasing new doors that don't have door handles included then it's your chance to create a bespoke look for all of your external and internal doors, or even if your doors already have handles you could switch them for a new style to give them a new lease of life. Read the following tips to find the perfect door handles for your home:
What's the difference between a door handle and a door knob?
The difference is in the appearance and motion that you use to open the door. A door handle is a slim lever that you push down to open the door whereas a
door knob
is a round knob that you twist. Whilst choosing a style mostly comes down to personal preference, you should also consider the practicality. Small children and elderly people may find it more difficult to use door knobs, so bear this in mind when making a decision.
Do I need lever lock, latch or bathroom door handles?
Latch doors are held shut by the latch but can be opened by pushing down the door handle. Bathroom door handles are best for toilets and bathroom doors. They can be locked from the inside, but have a release slot on the outside to allow the door to be unlocked in an emergency. A lock door handle is used when a door needs to be securely locked with a key. Generally, for fire safety reasons it's recommended that the majority of your internal doors have a latch rather than a lock. However, if you require lockable internal doors then it's best to leave them unlocked when possible in case of an emergency. Once you know which functionality you require you can consider the type of backplate and finishes for your door handles.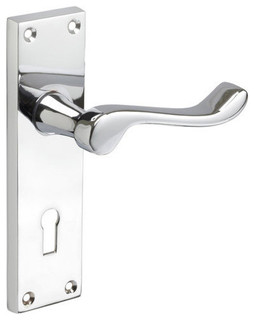 Lock Door Handle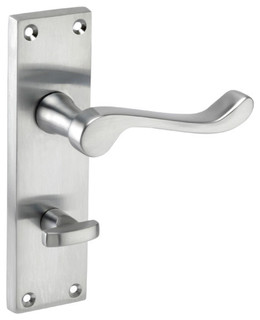 Bathroom Door Handle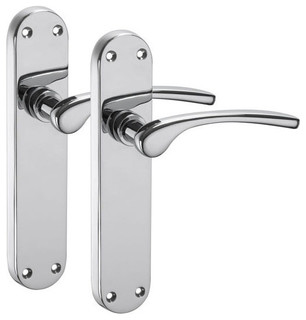 Latch Door Handle
Should I get a door handle on rose or door handle on backplate?
This really comes down to personal preference. Levers on rose are mounted on a small round or square backplate and have become very popular in modern homes, whereas levers on backplates look lovely in cottages and traditional style homes. Both options come in a variety of finishes and styles, so you're bound to find a style that fits in with your home.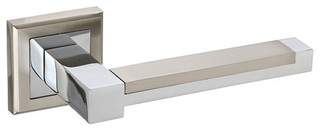 Door Handle on Square Rose

Door Handle on Round Rose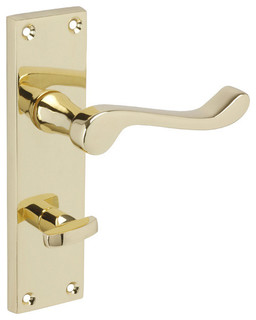 Door Handle on Backplate
What finish should I opt for?
When picking your internal door handles, choose a style that will complement the rest of your interiors; if they are generally quite traditional then brass could work but if you have a contemporary feel throughout the house then chrome or striking designs in silver, gold or copper could be the way to go. For external door handles you'll want something robust, secure and weatherproof. Black handles, either in true cast iron or a modern equivalent, can look sophisticated and will fit in with period properties, while at the back of the property you might need uPVC handles for your patio doors. These will withstand all weathers and ensure the back of your property stays secure.
Regardless of whether you're looking for chrome, brass or round door handles, or something else entirely, Houzz is bound to have the ideal door handles for your home. Be sure to browse our other types of
door hardware
, too.