Hallway Furniture
Your entrance, hall or hallway will be the first thing you see of your home as you walk through the door, and even though it's only an in between space that you may not spend that much time in, you can still make it homely and stylish with hallway furniture to welcome you home each day. Besides making your entrance area look attractive, a lot of hallway furniture is designed to be useful for the tasks you'll need to do as you go in and out of your house, whether that's putting on and taking off shoes, picking up or putting down keys, storing coats, hats and scarves, or having a handy drawer with torches, spare keys and more miscellaneous items to hand.


What hallway furniture works in small entryways?

If you're limited with space in your hallway then look at items that can be attached to the wall. Display and wall shelves, coat hooks and even some shoe storage units can be attached to the wall and help you to store and hang your outdoor items. Slim console tables will give you some surface space, or you could just go for a single side table for your keys and essentials to sit on.


What should I do if I have a large hall?

Sometimes entrance halls, hallways and landings can be so big that they could serve as a room on their own and it's hard to know what to do with the space. Choosing the right entrance hall furniture can make the space feel a bit less cavernous and more homely. A well placed side table, with a lamp, plant and mirror hanging over the top can create a timeless display in your entrance hall, while indoor benches or built in bench seats can offer a traditional, cosy touch and could offer useful storage for shoes and umbrellas. Coat stands can also be useful and you can find striking designs that will look good with and without coats and hats on top of them. Think about adding a rug and display shelves will help you add character to the walls, too.

Whether your entrance hall is small or large, take a look through the entryway furniture products to see if there are some items that could add a bit of character to your hallways.
Featured Reviews of Hallway Furniture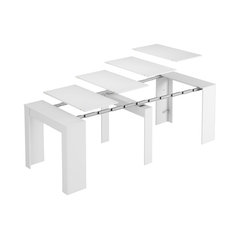 Extendable Console Table, Bright White
Hallway Furniture
Excellent addition: The extendable console table sturdy, looks great and cleverly designed. Ideal when set to the smallest size to be used as a neat and functional desk which then opens in to a 8 seater dining table.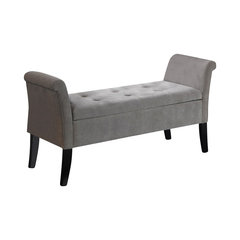 Balmoral Window Seat Bench, Silver Chenille
Hallway Furniture
Nice finished product: A bit dissapointed that the item was self assembly, as this was not obvious from the description. A washer was missing and there were marks on one part of the upholstery. However once assembled and cleaned, was a nice finished product. Also a bit surprised at the weight limit; is large enough for two people to sit, but only children would be under the weight limit.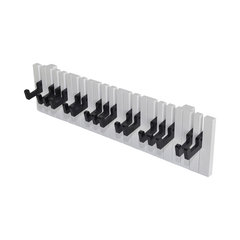 VidaXL Keyboard Design Wall-Mounted 16 Hook Coat Rack, Black
Hallway Furniture
Quirky, different and good value: I love this coat rack. It's unusual, looks great in my black and white hall. You can pull down all the hooks or just a few, depending on the look you want. It's well made. Was delivered on time. No complaints at all.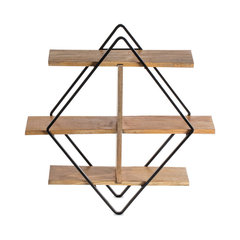 Hallway Furniture
Wall Shelf: I bought 2 of these shelves and like the design of them but one of them was not completed properly. There is a gap in the front of the shelf where the wood does not meet up properly.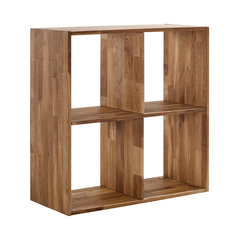 Hallway Furniture
Excellent, Arrived in good time, can not fault the seller: Exactly what I wanted, and exactly as described. I had just finished decorating the extension (with a lot of natural wood), and I wanted some storage units that would fit in with the overall appearance. These were perfect – and they look great! II would not hesitate to recommend these units to anyone who wants a great quality storage solution.