Fire pits are fantastic if you want to keep enjoying your garden once the sun has gone down and temperatures have dropped. Not only are they great for keeping warm but they make a beautiful focal point for your garden and are wonderful to grill bbq food or roast marshmallows on, too.
How do fire pits work?
Gas and wood burners both work in different ways; with gas burning fire pits running on propane or natural gas, and wood burning fire pits using firewood.
Gas fire pits
You will need to connect a gas line from your house or from a portable propane tank to your fire pit for it to work. How to light your gas fire pit:
1. Ensure the fire pit and propane valves (if applicable) are closed
2. Light a wand lighter or long match, place it in the centre of your pit and slowly open the valve
3. Immediately remove the match or lighter
As each model is slightly different, please read the instructions carefully before lighting a fire. Gas fire pits are generally easier to use and they burn more cleanly than wood, however try to avoid cooking using gas pits as the grease can clog the burners or cause damage to the gas logs.
Wood Burning fire pits
You will need firewood, firelighters and kindling to light your fire pit.
1. Lay dry logs at the bottom of your fire pit
2. Add a layer of smaller logs followed by kindling
3. Place firelighters on top of the kindling
4. Light the fire using a long match or wand lighter
Wood fire pits tend to be cheaper to install and run than gas ones. However, they take more time to light and can be messier than gas alternatives. They are ideal for someone who loves the crackle of wood burning, and someone who likes cooking food on an open flame.
Are fire pits safe?
Fire is fire, and therefore there are always going to be dangers with a fire pit. However, if you take precautions you can enjoy your fire pit safely:
Place your fire pit 3 metres away from plants, structures and combustible surfaces and on a flat surface
Avoid lighting a fire in windy conditions
Ensure pets and children are supervised at all time and kept 3 metres from the fire
Never place your fire in an enclosed space or below overhanging trees
Have water, a hose or a fire blanket nearby
Do not wear flammable or loose fitting clothing around the fire
Never light your fire with petrol or other flammable liquids
Can fire pits be used on grass?
Whilst you can place them on grass, it's not recommended. Fire pits may kill your grass and it's safer to place them on a hard, flat, non-flammable surface such as concrete. However, if it's not possible to place your fire pit elsewhere, consider the following tips:
Rake the grass to remove debris, dead grass and other combustible materials
Spray the grass with water to protect it from the heat
Consider getting a protective mat to place under your fire pit and protect the grass
What size fire pit should I buy?
This depends on the space you have available and how many people you want it to accommodate. Large fire pits give off more heat but can get out of control more easily. Also, if you intend to move your fire pit around, then this may not be the most appropriate choice. Small fire pits are easier to move around, but they may not give off enough heat to keep lots of people warm. Safety should be your prime concern, so select a model that fits in the space available and away from structures and bushes to ensure safe use.
Which fire pit is the best?
There are lots of different types of fire pits to consider, each with their own unique design and features. Here's a breakdown of some of the most popular types: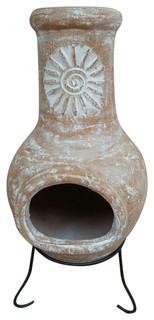 Chiminea:
Chimineas are shaped like a chimney and funnel smoke up and into the air. Their shape protects the fire from the wind and rain and can make it easier and quicker for a fire to take light. They were traditionally made from terracotta but can now be found in a variety of materials, such as cast iron.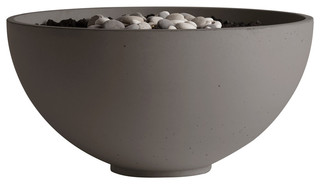 Fire Bowl:
A fire bowl is the most common type of fire pit, and therefore the names are often used interchangeably. Whilst they generally do tend to be bowl shaped, they come in various different materials (cast iron, copper, stone, stainless steel etc.) and sizes. A fire cover is recommended for these fire pits as they can send out sparks.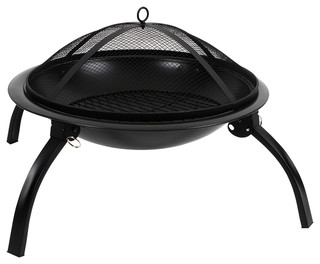 Portable:
Also known as fire baskets, these fire pits are designed to be moved around with ease. They often have foldable legs or wheels and are great for camping trips or if you don't want to splash out on a permanent fixture.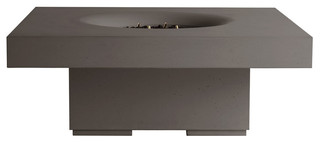 Fire Pit Tables:
These are tables with a built in fire pit. These can be anything from a table with a slim rim and a large fire pit in the centre, or a large 6-seater dining table with a small fire pit in the middle.
Regardless of whether you're looking for fire pits for camping, tables with fire pits or something else entirely, Houzz is bound to have the ideal fire bowl for your garden. Whilst you're browsing our beautiful selection be sure to check out our wonderful
firewood storage
products and
outdoor lighting
, too.