Footstools are the perfect companion after a long day of work (or play), when all you want to do is come home and put your feet up. Whilst they're above all practical, footstools and ottomans can add a style element to your living room, help to lift the colour palette and inject a fresh pattern to create interest and add depth to the design of your room.
What are footstools used for?
The main purpose of a footstool is to support and elevate your feet, which is said to help blood circulation. They are designed for comfort and therefore are often padded. They are also great for children whose feet can't reach the floor when sat down. Nowadays, footrests are also used as
coffee tables
, extra seating and in some cases, extra storage space too.
Why are footstools called ottomans?
Whilst the words footstools, ottomans and
pouffes
are often used interchangeably, there are actually some slight differences between them: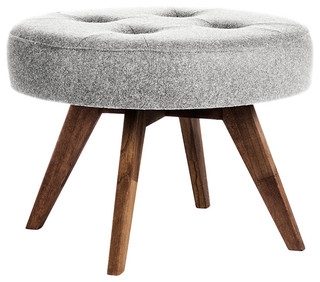 Footstools
A piece of furniture designed to support someone's feet whilst they are sat down. Ottomans and pouffes fall under the general umbrella of footstools.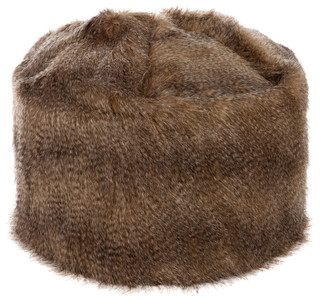 Pouffes
Pouffes are often round, have no legs and sit flat on the floor.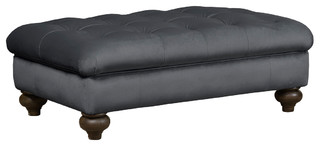 Ottomans
Ottomans are a large padded stool. They are covered in fabric and often have storage space inside.
How tall are footstools supposed to be?
For maximum support and comfort, your footrest should be the same height as your chair or ever so slightly lower. If you're unsure on which height is best for you, try arranging some books or a coffee table up to the height of the ottoman to test it out.
Can ottomans be used as coffee tables?
Absolutely! Ottoman coffee tables can look stunning in a variety of different interiors. Opt for an ottoman that is the same height as your sofa cushions for a practical height that is equally great for placing drinks and acting as a footrest. Some ottoman coffee tables have hidden storage too – perfect for storing dvds, books or magazines.
How to clean footstools and ottomans
Always check the care instructions before cleaning your ottoman. If you're using a product try testing it out in an inconspicuous spot first:
Leather Ottomans


Dust the ottoman using a sofa cloth or vacuum using the brush attachment
Clean using a leather cleaner and a soft sponge or cloth

Fabric Ottomans


Remove the cover (if possible), and wash according to care instructions
Hoover inside, outside and underneath your ottoman using the brush attachment of your vacuum cleaner
Use a carpet cleaner or mild detergent to clean your ottoman. Test the product in an inconspicuous spot first.
Let it dry
We have a fantastic selection of ottomans and footstools in a variety of materials, shapes and sizes, so you're bound to find the perfect addition for your home on Houzz. Why not have a look at our
bean bags
as an alternative flexible seating solution, too?