Garden Furniture
Gardens are a wonderful place to relax or to entertain guests on a warm summer's evening. With the right furniture your garden can be transformed into a hub of relaxation or a delightful space to socialise. With so many different types of garden and patio furniture to choose from, selecting the perfect outdoor furniture for your home can be confusing. Read the following tips to make choosing your garden furniture a breeze:
How much garden furniture should I buy?
Before you decide on your furniture, first analyse your garden or outdoor space to see how much room you have to work with. You don't want your garden to feel overcrowded so be sure to allow plenty of room for guests to walk around your lovely garden tables and chairs or
benches
.
If you've been blessed with a larger outdoor space, you can consider more substantial garden furniture items, like a
hammock
or patio furniture set. Sets often come with five or more pieces — complete with outdoor loungers, garden tables and chairs and sometimes
patio umbrellas
. For smaller gardens consider a bench that can be placed up against a wall or fence, or a
bistro set
to make the most of the available space.
Which material is best for garden and patio furniture?
There are many different materials for you to choose from, all with their own benefits and drawbacks. Here's an outline of the most popular materials:
Wicker and Rattan Garden Furniture

Wicker and rattan garden furniture is lightweight, comes in a variety of colours and is suitable for indoor and outdoor use. Select outdoor furniture made from all weather synthetic wicker rather than natural wicker for better protection against the weather.



Wooden Garden Furniture

Wooden garden furniture is a natural, durable and dynamic choice but may require more maintenance and care than other materials.



Stainless Steel Garden Furniture

For a modern or industrial look, opt for stainless steel garden furniture. It's moisture and mould resistant, and won't stain but may become hot when placed in direct sunlight.



Aluminium Garden Furniture

Lighter than stainless steel, aluminum garden furniture is rust proof and durable. However, aluminium can become hot to the touch when placed in the sun. Tip: rub car wax on the surface to protect it.
No matter which material you opt for, we highly recommend that you protect your garden furniture from the elements with a
garden furniture cover
to preserve its state and prolong its life.
Which style outdoor furniture should I buy?
In order to make a decision about style, you first need to decide on the size, colour and function of your garden furniture and then you can start thinking about the style and design. Choose a style that blends well with the theme and colour palettes of your garden and house for a stunning final effect, and this should help you decide on material too!
Regardless of whether you opt or wooden patio furniture, steel garden tables and chairs, rattan garden furniture or something else entirely, Houzz is sure to have the perfect patio and outdoor furniture for your garden.
Featured Reviews of Garden Furniture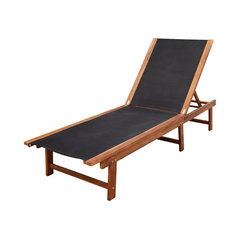 vidaXL Sun Lounger, Acacia Wood
Garden Furniture
Great for the Price: Was hesitant to purchase these without any reviews but decided to buy 6 since we couldn't find anything comparable for the price. Chairs arrived quickly and were easy to put together. They look great and seem to be very solid. Also easy to assemble. One chair arrived damaged and the response from both Houzz and VidaXL was super quick...like within minutes. They are sending the part which is great. I was worried I would have to pack up the chair and drag it to the post office to get a new one. Very satisfied.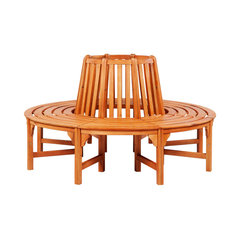 vidaXL Circular Tree Bench, Wood
Garden Furniture
easy to assemble and looks great: Very nice product, good quality and more screws and bolts than needed. Looks really impressive now round the tree. Reasonable value for money , some cheaper ones around but good quality so worth paying a little more.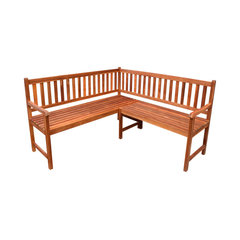 vidaXL Garden Corner Bench, Acacia Wood
Garden Furniture
Solid Outdoor Bench - Some things could be better: The bench overall was very sturdy. Assembly was a little tedious, you will need two people to complete. I recommend two items; tighten one side of the bench completely then move to the next side otherwise the holes made in the would won't align. Also, i recommend using a drill with hex bits vs. the allen wrench. The bench does splinter slightly so you will need to add cushions. I would factor that in to the total cost of the bench. Also the one leg doesn't quite touch the floor it grazes it which is part of assembling a bench vs. getting one pre made.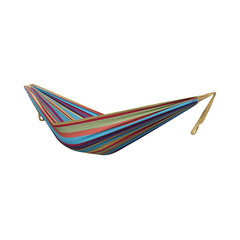 Double Cotton Hammock With Stand, Tropical
Garden Furniture
Great value for money: We just assembled our new hammock, it took my husband 10 min! It's sturdy, well made, it carries all 4 of us (if we try hard). Very pleased with my purchase. It even comes with a bag to carry it once assembled.