Media Storage and Media Units
As the home of DVDs, video game consoles and other home electronics, a TV stand needs to have plenty of storage. TV stands should be able to house all our favourite films and keep cables organised, as well as add a stylish design element to your living room or home cinema. Whether you need a small TV storage unit or credenza or a full-blown home entertainment centre with media towers, there are thousands of options to choose from. Here are some helpful tips as you consider your next media media console upgrade.

How big should my media console be?
The size of credenza will depend on the space you have and your storage needs. If you are a film buff, your large DVD collection and numerous gadgets and devices might merit a large media console to house it all. If you only have a small space, you might just have room for a TV stand.
Regardless of space constraints and size preferences, the total width of your television stand should be greater than the total width of your TV in order to avoid any accidents. After all, if the side of a television overhangs the media console, someone might easily knock it over as they walk by. You might also want to measure the space and find a unit that doesn't overwhelm the room or get in the way.

What should my TV stand be made of?
The material should suit the style of the space it's going in, as well as offering enough durability to withstand the weight it will be bearing. Wood tends to be the reigning champion in terms of media storage material. It is sturdy and comes in many finishes — including walnut, ash, oak and cherry — to accommodate many styles. Veneered plywood is a comparatively more affordable option that is best suited to less weight. There are many particularly sleek designs in glass and plastic with metal fittings. The material you choice may also be dictated by your family's needs; for example, glass and metal media consoles with sharp edges aren't ideal for small children.

Where should I place my TV storage unit?
This will depend on the layout of your room and the placement of other furniture. Your sofa should ideally face your TV stand; after all, you want to be able to relax while watching television. As you're figuring out your space, measuring all your furniture and creating a mock layout can help you to determine what goes where. If you have a more flexible floor plan, it could be best to avoid placing your TV in an area with bad glare.
Featured Reviews of Media Storage and Media Units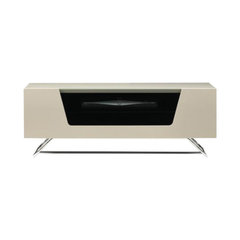 Chromium TV Unit, Ivory, 100 cm
Media Storage and Media Units
Contemporary TV unit: We have just taken delivery of this unit and absolutely love it! Great quality and looks very stylish. It arrived as a flat pack but the instructions were very simple to follow and it only took 20 mins to assemble. Would definitely recommend it.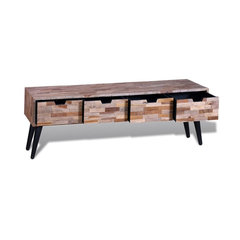 VidaXL TV Cabinet With 4 Drawers, Reclaimed Teak
Media Storage and Media Units
Perfect for our Loft Space: This is a really neat little cabinet that serves as a small TV stand, a lovely surface to place a lamp and ornament on and it comes with four drawers.. These are perfect for short stay guests to store small items of clothing - T shirts and underwear. In addition the delivery of the item was fuss free and met our requests precisely and efficiently. The item is beautifully made, exactly as depicted. All the drawers fit and slide without a problem. We only had to assemble the legs and this was problem and hassle free.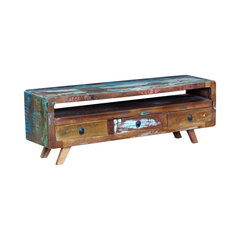 vidaXL Solid Reclaimed Wood TV Cabinet With 3-Drawer
Media Storage and Media Units
Living room love!: We ordered this for our first home, we love it and it and can't wait to move it in. very efficient delivery and easy to assemble as you just have to attach the legs. will post pictures when its all set up!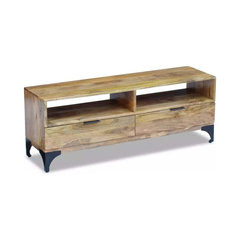 vidaXL TV Stand in Mango Wood, 120x35x45 cm
Media Storage and Media Units
Exactly what we wanted: Looks great - better than the photos - is really practical, very solidly built and the only thing we had to do was screw on the feet, which was easy. It also arrived very quickly. Couldn't be happier.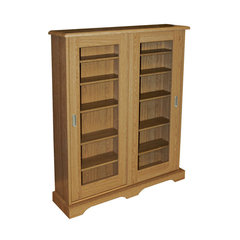 Hampstead 432-CD or 216-DVD Media Cabinet, Oak
Media Storage and Media Units
Love it!!!: Easy to put together and nice sliding doors. Easy access to DVDs. Perfect! Also, doesn't take up much room - real space saver! Thinking of buying another one to replace my older holder. Will post pic soon hopefully! :-D