Pendant Lighting
Pendant lighting for your home is unbelievably popular at the moment, hanging over everything from the dining room table to the kitchen island. As
ceiling lights
, they have traditionally been used to illuminate rooms but they are even more versatile, capable of functioning both as direct task lighting and adjustable ambient lighting – in the hallway, for example. Perhaps the real appeal of decorative pendant lighting is the variety of shapes, colours and shades that are available, from industrial copper to bright blown glass hanging lights. These are crafted jewels of the home that beckon and beguile.
Which pendant lighting should I use?
Whether you direct the light up or down will depend on what function the lighting will serve. Inverted pendant lighting is ideal for casting a soft, mood-evoking glow so is best used as an ambient light source in the dining room, for example, where you might want to avoid a harsh glare. On the other hand, downlight kitchen lighting over work surfaces or the kitchen island will help you to chop vegetables instead of fingers.
How many hanging lights should I consider for one space?
Depending on what part of your interior you're lighting, you can choose one single light or group several together. A sculpture or painting in the foyer could be showcased with a single pendant light; might itself be the work of art, displayed in a hall, dining or living room. Multiple lights, such as rise and fall hanging lights, can be arranged in a circle, line or on a track to emphasise a certain part of a room, such as a dining table or sofa. Play with colour combinations of pendant light shades or cord extensions and ideally hang them on an adjustable flex so you can vary the height and placement as required.
What styles of pendant lights are available?
Pendant style lighting can be discreet and functional or elaborate and eye-catching. Glass lights are crafted to resemble anything from tulips to globes and stars. These help to maximise the light output and are great for hanging over desks and work surfaces. Fans of industrial pendant lighting will appreciate tough metal forms such as cages and domes. A copper light would bring warm task lighting into a country kitchen and work well beside exposed brick walls. Elsewhere, a lantern-style pendant light shade (either in woven fabric or paper) can lend a flattering diffused glow to a bohemian living room. A cluster pendant light is a modern yet decadent alternative to a chandelier, while a drum shade is a neutral style that casts even light; perfect for guest bedrooms and halls.
How high should pendant lighting be?
Unfortunately there's no perfect formula for determining the perfect pendant lighting height. When making a decision you'll need to consider the following:
The size of your pendant and where it'll be hung – scale is important
The height of your ceiling – higher ceilings require higher lighting
The space you're working with – place your furniture first to get an idea of space and scale
Your personal preference – stand back and check the placement of your pendant lighting
Whilst there may not be a perfect formula, here's our general height recommendations which you can adjust according to your requirements:
Over a Table: 70-80 cm from the table top
Above a Kitchen Island: 75-100 cm from the countertop
Above the Stairs: Leave between 2.1 and 2.4m clearance space
In the Hallway: Leave 2.4m of clearance space
Featured Reviews of Pendant Lighting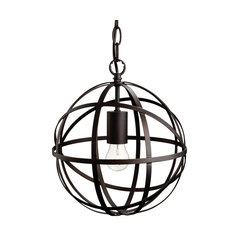 Castle Single Light Pendant
Pendant Lighting
Me love castle lights!: The electrician installed them, he also managed to reduce the length as they come with quite a bit of chain. They look fantastic, just what you would expect I am really very pleased. Many thanks Houzz ;)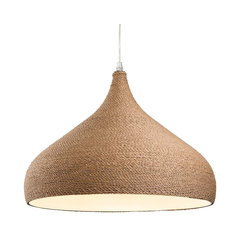 Coast Shaped Rope Pendant
Pendant Lighting
It's a little big but I'm keeping it anyway I was disappointed with the fitting though - it looks and feels quite cheap.: It's a little big but I'm keeping it anyway I was disappointed with the fitting though - it looks and feels quite cheap. I'm hoping that it can be fitted with another fitting otherwise I'll just have to put up with it!!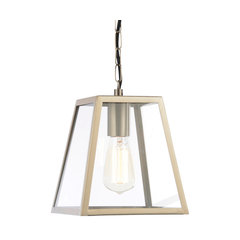 Stainless Steel Rockford Outdoor 1 Light Tapered Hanging Lantern
Pendant Lighting
Brilliant porch light: We are delighted with this super light.. just perfect for illuminating our front door and great value too - fast delivery - product just as stated in description - tough glass sturdy construction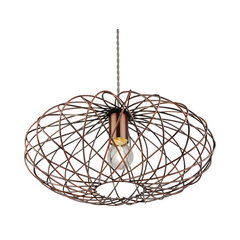 Firefly Pendant Ceiling Light, Antique Copper
Pendant Lighting
Very stylish: Very stylish, dark copper wire pendant which produces a lovely pattern effect on the ceiling when switched on. The colour is a perfect match for my walnut furniture. Provides a focal point but does not overwhelm the room. Delighted with this product.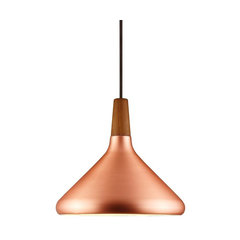 Float Medium Pendant Light, Copper
Pendant Lighting
Good value: We bought these as a more economical version of the light years orient pendant. They are decent quality and pretty good value but not quite as nice as the orients. We ended up returning as we got a good deal on the originals.