Prints and Posters
Show your personality and taste through beautiful high quality art prints and wall posters. Whether you opt for a typography print displaying your favourite quote, or a poster of a classic movie, prints and posters can become the focal point in your room or be used to complement your existing decor.
What's the difference between a print and a poster?
The difference lies in the quality and the image subject. Posters are usually printed in large volume and on less expensive paper than art prints. Additionally, poster are often advertising something, such as a movie or a music album, whereas prints are often a reproduction of an original piece of art. However, both prints and posters can be classed as artwork.
What poster should I get?
Prints and posters don't have to be of paintings or photos, there are all sorts of quirky patterns, and quotes that will work with any design style. Here's a list of some of the different types available:
Vintage Posters: These brightly coloured posters were the original form of advertising.
Art Prints: These are a printed copy of an original piece of artwork.
Music Posters: These posters feature music related images, including pictures of bands and artists and often album artwork.
Typography Art Prints: These are prints that use letters or numbers to create art. Printed song lyrics and quotes are examples of typography.
Movie Posters: These are posters that have been created for major films.
What style art print should I get?
If you're looking for statement pieces that will be the prominent design element of a room, then large canvas prints or even wall murals will do the trick. Go for big and bold if you love a bit of colour, or if minimalism is more your thing, there are plenty of abstract poster designs that may appeal to you.
Featured Reviews of Prints and Posters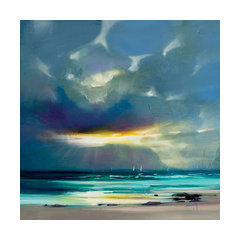 "West Coast Blues II" Printed Canvas by Scott Naismith, 85x85 Cm
Prints and Posters
Very evocative: Choosing a pict is very personal, and needs to say something to you first be the right colours for your scheme and the right size for your room. This size 85x85 is large enough to make a statement and had colours that matched in with my curtains. However it was the beautiful view with the sunlight bursting through the clouds that attracted me first. Stormy but calming. The canvas is well made with a sturdy frame at a good price point.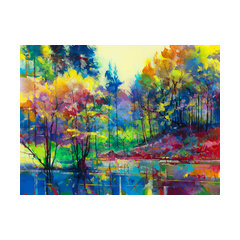 "Meadowcliff Pond" Canvas Print by Doug Eaton, 80x60 cm
Prints and Posters
Deligdted with 'Meadowcliff Pond' painting: The picture was bought on speculation for my wife's birthday, and when she saw it she was over the moon. We are both delighted with the picture and waiting to have it professionall framed.. Thank you for the opportunity to buy such a colourful print. Regards DJ Walker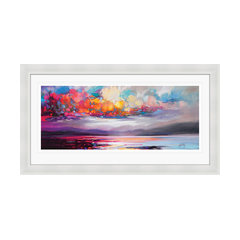 "Stratocumulus" Framed Print by Scott Naismith, 110x60 cm
Prints and Posters
Fabulous POP of colour!: My second Scott Naismith and did not disappoint! The colours are just amazing and light the wall. This is a substantial picture and the frame is chunky which adds to the overall finished look. Huge amount of packaging which was not an issue as item arrived safely. Again excellent customer service and delivery team were excellent also. Great company.