About Us
We're here to design, build and finance your project
Resi Connect is also looking for quality contractors! Get in touch with us to discuss further. -- With the unique Resi approach, it's never been easier to transform your home. Our awesome team of specialists can help you at every stage of your project, whether that's financing, design, planning, building regulations or construction. We're proud to have such a comprehensive team of professionals, from architects and planning specialists, to surveyors and mortgage advisors - all under one roof! We use industry-leading technology to make sure your journey is fast, accurate and cost effective. Our in-house tech team built the Resi dashboard so you can follow your project every step of the way. It's super easy to navigate and lets you watch your project come to life with screensharing, instant messaging and file uploading, all from the comfort of your computer, tablet or phone. It doesn't matter how big or small your project is, or what stage of the process you're at, our experienced Resi professionals are ready to unlock your home's potential. And with 3000+ completed projects behind them, no one is more trustworthy! Take the first step on your Resi journey by booking a free consultation via our website.
Services Provided
3D Rendering, Architectural Design, Architectural Drawings, Basement Conversion, Basement Design, Bathroom Design, Building Design, Complete Kitchen Renovation, Floor Plans, Home Renovation, House Extensions, House Plans, Kitchen Design, Loft Conversion, Loft Restoration, New Home Build, Space Planning, Kitchen Renovation
Areas Served
London, United Kingdon, Manchester, Newcastle, Aberdeen, Leeds, Liverpool, Brighton, Bristol, Nottingham, Leicester, Hull, Cardiff, Derby, Sunderland, Warrington, Bradford, Watford, Burnley, Guilford
Back to Navigation
Our Stories
Sponsored story
These clever architectural solutions are guaranteed to increase the light levels, as well as the happiness factor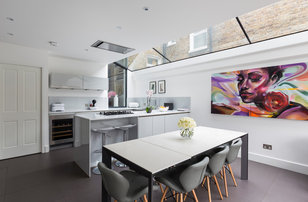 Sponsored story
Working with an experienced architect is not only easy and affordable, it can unlock your home's potential in many ways
Item 1 of 2
Back to Navigation
Back to Navigation
Back to Navigation
Write a Review
42 Reviews for Resi
Average rating: 4.9 out of 5 stars
4.9
|
42 reviews

You guys are ACES! absolutely unbelievable, my planning application is granted!!! This is amazing, taking into account that it was highly unlikely and refused before (when dealing with other architect). It makes such a difference when dealing with real professionals - results talk for themselves! Great Job!

Resi have been great so far on our project, setting expectations and always meeting their self set deadlines. Jack really supported us through the design stage and we are really happy with the quality of the drawings and the consultations we had in order to come up with the final plan for submission.
It's important to feel totally at ease with your design team and despite our interactions being virtual (Covid 19) from the outset of this project we felt really comfortable with RESI. The initial enquiry call set the standard which soon lead to instruction, design & planning. Throughout each interaction we have encountered nothing but first class service and client care. It was really down to this quality of service why we decided to also utilise RESI Finance to secure the funding for the project. Plus points are definitely the online portal/dashboard with information re milestone payments, information on costs for projects as well as relevant literature on practical things to think about when undergoing major construction/redevelopment work. We have now submitted our plans for approval and hope this will go through smoothly first time. All in all we are extremely happy with the services Resi have provided. In terms of costs/fees I do not think RESI are the cheapest but you pay for quality and I would not hesitate to recommend or use their services again.

RESI are fantastic. Finding an professional architect has never been so easy. They have made the renovation process simpler and less time-consuming by bringing the industry online, whilst not compromising on expertise or that personal touch that is so important when renovating your home. We couldn't have found a lovelier bunch of people to work with - highly recommend their services to anyone looking for an architect.



would highly recommend this company, worked with Alessio on our planning application for our rear extension, found the the process straight forward. Alessio was able to take our idea's and design preferences on board very well and used his design expertise to offer solutions in the area's where we felt unsure. There were a couple of occasions when we changed our minds on the placement of windows etc, these were amended straight away and I'm happy to say planning was approved first time. I look forward to using Resi for the next stages of our renovation
Good professional service. Very fast turnaround on all actions and requests for further information. Have been using for about 4 months on an extension project and they have impressed me with their speed. The portal works well and is easy to use, so no complaints at all.
Can't recommend Resi enough. It's been so easy to work with the team - from my initial call to better understand how they work through to design and now planning stages. I had a couple of consultations with Architects prior to looking at Resi and found that either they others weren't really interested in a Loft Conversion / Rear Extension project or had very strong opinions and I wasn't being listened to. Then came Resi. From Nick who eased my mind about the business, to the initial survey team through to Maeve our Architect they've been easy to talk to, communicative, good listeners and great at providing advice, guidance and reassuarance through the process. The process itself is so simple, all done online with little or no need for endless visits and cost. We're now heading towards planning stage and I feel extremely well supported. Maeve is very knowledgable, friendly, fast, professional and absolute pleasure to work with! It was clear she understood the brief, and had a sense of the direction and style we were going for, and then she directed and showed us the best approach and design. Work quality is extremely high, we got frequent updates and deadlines, budgets etc have all been met. We're now considering continuing the relationship to help get our projects into build stage. Very happy we chose to work with Resi.
Very happy with the service provided by RESI. They kept me informed at every stage of the proceeds Very clear communication via their communication Portal application. They even managed to get the planning permission for 4 meter. Council staff who came around to my property told me that it difficult to get permission for 4 meter. Based on my experience I would not hesitate to recommend this company to anyone who needs a peace of mind. Pravin Shetty
I had my reservations about getting design plans on-line but the whole process has been very professional. They deal with all parts of the process efficiently and speedily - design, planning application, building contractor suggestions. They're very quick to answer questions clearly and without jargon. The design was just what I wanted and i look froward to taking it forward.
Excellent customer service and Highly recommended. Very professional design drawings. Thank you very much for your prompt feedback . Best wishes, Mark
Resi team are extremely knowledgeable and have high expertise and are great at listening to views and implementing changes. It felt strange at first not meeting someone but with a shared screen, it was all very clear. I would highly recommend.
Relationship
Received an estimate
Very impressed with the service and the attention to detail to my requirements. the team were very polite and always delivered all there responses on time as discussed would highly recommend using them to anyone.
Back to Navigation
Back to Navigation
Bring your project to life for £250
London, Greater London SW97QD
United Kingdom
Typical Job Cost £750 - £2,500


Our packages include 2D floor plans, 3D renders, 3D interactive models, planning applications, building regulations, finance and more.