van Ellen + Sheryn Architects
About Us
Devon's Award Winning Architect Practice
Van Ellen & Sheryn is an award winning architectural practice based in Ashburton, Devon. We specialise in large-scale luxury new builds, residential transformations and home extensions covering England's beautiful South West. Our approach aims to wed progressive, contemporary design with environmentally responsible construction practices. Each of our projects is treated with the same verve and creativity, irrespective of its size or budget. We will listen carefully to your requirements, aspirations and constraints to develop a clear project brief, prior to commencement. We care deeply about good, well considered design. A well-designed building or space has the ability to both physically and culturally transform people, groups and entire institutions. Get in touch with us today to discuss your next project!
Services Provided
Accessible Design, Architectural Design, Architectural Drawings, Basement Conversion, Building Conservation, Building Design, Custom Build Home, Design Consultation, Eco Homes, Floor Plans, House Extensions, House Plans, House Restoration, New Home Build, Passive Houses, Prefab Home Extensions, Prefab Homes, Project Management, Space Planning, Sustainable Design, Swimming Pool Construction, Custom Build Homes, Green Building, New Home Construction, Technical Drawings, Listed Building Applications, Planning Applications
Areas Served
Ashburton, Devon, Cornwall, Exeter, Plymouth, Dartmoor National Park, South Wales, South West England, South East England, Dartmouth, Salcome, Falmouth, Bigbury on Sea, London, Dorset
Awards
Royal Institute of British Architects Chartered Members Royal Institute of British Architects, Chartered Practice Architects Registration Board
Back to Navigation
Our Stories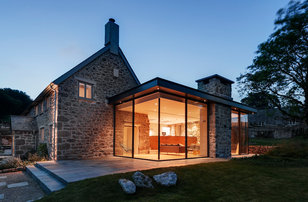 Sponsored story
Regenerating an old building so it's relevant for today is all about the synergy of old and new, says this architect
Item 1 of 1
Back to Navigation
Back to Navigation
Back to Navigation
Featured Review

West yard farm (another VES project) inspired our own project, merging the old and new together. Eilir took initial oversight for the scheme and its direction including the required bat loft! Ian, ably assisted by Chris completed all the planning and
Read Full Review
Write a Review
29 Reviews for van Ellen + Sheryn Architects
Average rating: 5 out of 5 stars
5.0
|
29 reviews
We bought this house in 2016 and approached Van Ellen Sheryn because we wanted to extend the living room. The drawings for the new room were stunning. However, when the builders began work, they discovered wet rot throughout the house. Eventually, it was decided that the house would need to be demolished and rebuilt. VES dealt with all the necessary paperwork, applied for the original planning permission, the permission to demolish the building, then the new planning permission. They kept us informed at every step of the way, and they redesigned the internal space of the house. We were extremely pleased with the way that VES reimagined both the internal layout and the outside terracing. Work began on the house in October 2018 and was completed in October 2019. My husband passed away in April 2019, so never got to see the finished house. VES and the wonderful builders (Kesterbrook) could not have been kinder – in fact, when I took over the house upon completion, the builders presented me with an oak plaque to remember Roy, which is now fixed to the external apex of the living room, which faces Burgh Island. I can highly recommend Van Ellen Sheryn, not only for the beautiful design of the house, but also for their attention to detail and monthly progress reports (which was an additional service). Everyone who has visited the house is blown away by the imaginative use of space and light. VES have ensured that from the moment you enter the house, the views are spectacular. It is now a much loved family holiday home and we look forward to being able to use it again once pandemic restrictions are eased.

We were extremely happy with the service we received from Van Ellen + Sheryn in extending our home. The team were very helpful and friendly throughout the process. Their plans were sympathetic to the existing building and worked very well with our limited budget. We were particularly impressed with the way in which they enabled us to alter the configuration of our existing space, to maximise natural light. I would definitely recommend them to anyone considering altering or extending their home.

We enlisted van Ellen + Sheryn to renovate our cottage in Scotland. After visiting the place twice with Frederieke and Eilir, they started working and interchanging ideas, always taking our concepts as a base. They came up with some pretty original ideas, which we were very happy with. They sensitively transformed this old stone cottage into a house suitable for modern living, while maintaining many of the characteristics. We were particularly pleased with how the new window openings changed our dark living room into a bright space. They dealt with the local authorities, consultants and contractors and made sure the project was delivered on budget and within our set time frame. The communication during all the project phases was excellent. It was a pleasure working with you. Wishing you all the best!
Broadhempston Village Hall was completed in December 2015 and is now an outstanding feature of our vibrant rural community. Our CIO's project panel chose VE&S out of a number of interested architects and our choice was entirely justified. The architect's brief was fulfilled with imagination, precision of design and to budget. We now have a carbon-neutral hall which serves the community extremely well and we would not hesitate to recommend the VE&S team for its responsiveness, the quality of its work, the value for money (important to our charity where every penny counts!) and just the great pleasure of working with them. Peter Sheridan
Ashburton Swimming Pool CIO
Van Ellen + Sheryn gave their time and work for free to design an outstanding shelter for Ashburton Swimming Pool CIO to encourage more users to the pool and to improve the pool experience for all. Van Ellen + Sheryn worked closely with the trustees, assisted with the planning consent process and held numerous free on-site meetings and inspections both prior to and during the build. The result has transformed the pool and the build process was incredibly smooth and efficient as a result of the Van + Ellen team's work.

West yard farm (another VES project) inspired our own project, merging the old and new together. Eilir took initial oversight for the scheme and its direction including the required bat loft! Ian, ably assisted by Chris completed all the planning and full scheme details including the impressively helpful 3D iPad model to visualise the whole scheme. Results are impressive and we are delighted with it and the reality matches the concept brilliantly, another exceptional job by the VES team.

First class service! We chose van Ellen & Sheryn after seeing examples of the work in the area. Ian Phillips worked hard to understand our needs and preferences before coming up with his exciting design, which we loved. They guided us through all aspects of the project, from getting planning permission (within Dartmoor National Park!), through to appointing a builder. They managed all aspects of the project and we are delighted with the final result. They provided much more than just a design service. I cannot recommend them highly enough.

Van Ellen + Sheryn did a fantastic job putting a modern extension onto a thatched cottage. After a couple of false starts the final agreed lan was exactly what we wanted linking the House with its surroundings. The specifications of the glass and cladding lifted the build even further into something truly wonderful. Without exception everybody we had dealings with at the firm were polite helpful and at all times professional. I can't recommend them highly enough.




Van Ellen and Sheryn always deliver a friendly, professional, service and do their upmost to see away through the demands of their clients, the natural constraints of any particular site, the budget constraints that may exist, and the expectations of the relevant Local Authority. It can be the case that the desires of a client are not matched by a Local Authority, this can result in adaptations to enable planning permission, Van Ellen and Sheryn always show patience and creativity in trying to overcome such problems. As a planning consultant and historic building consultant I have always enjoyed working alongside Van Ellen and Sheryn and found them efficient and reliable in delivering projects for their clients. My observation is that their clients also have enjoyed working with them and this is best substantiated by the repeat business and positive recommendations I have witnessed them receive. They create attractive solutions and have a sound appreciation of the hurdles often faced in securing planning permission and delivering a scheme, to aid this they have contact with an array of consultants who provide associated services to support development, this includes practices and professionals in the fields of planning, ecology, engineering, ground surveying, drainage etc.

We have commissioned van Ellen & Sheryn to design a new purpose built cookery school building in Ashburton which was opened in 2010 along with subsequent extensions to the building in more recent years. As a customer facing business we welcome thousands of people from around the world to spend large amounts of time (up to 6 months) within our building, so it is imperative that it is welcoming and attractive from the outside and a light and enjoyable space to work in. van Ellen & Sheryn showed an excellent understanding of the brief and gave us multiple, well-visualised concepts to help us focus towards a finished concept and plans. We are sited within Dartmoor Park conservation area which brings with it special considerations of materials and design, and much time was saved by having architects experienced of working within these parameters. There were no issues gaining planning permission. The finished build is exactly as visualised and designed by the architects - an outstanding building to look at and work in that makes the most of the site within which it sits and is a delight to work in. Several years later the business needed to expand and we commissioned van Ellen & Sheryn for the extensions. This was a tricky brief, adding on two new dining rooms to the existing facade and had the potential of spoiling the strength of the original design. Their design has actually strengthened the impact of the facade of the building which is quite an achievement. I would recommend van Ellen & Sheryn architects for projects of all sizes. They are a modern architect studio, small enough to care about all their projects, but experienced enough to cope with projects of all sizes. I feel they offer extremely good value. The work they have executed for us is contemporary yet looks better as time moves on - the sign of a great architect.




We were delighted to hire van Ellen and Sheryn architects for work at two Dartmoor National Park Visitor Centres. Whilst relatively small contracts they had important stakeholders and the team listened to us to fully understand and deliver the plans that were asked for.
Eilir and Ian have been really impressive. They are both very creative, proactive and responsive and were able to obtain planning permission for a contemporary house in Salcombe. We are now progressing with the construction.
Superb creative and professional team. Fantastic style ideas and attention to detail. Incredibly patient and great communication. They were also brilliant company whilst planning our home.
Eilir and his team were great. We wanted a transformation of an old conservatory and kitchen in to a open living space full of natural light. They listened to our thoughts, gave suggestions and improvements, then drew up clear designs. They were also very helpful and committed throughout the whole process, doing alterations, adding new ideas, as well as speaking to our builders about how certain elements would work. A really pleasant experience from first ideas to final finished extension, which is very practical and looks fantastic.
We hired van Ellen Sheryn to provide us with a full design service, from concept through to plans and managing the planning process. We found them to be a great team of smart experienced people who worked together very effectively to provide us with a faultless service. They listened and they worked hard for us. In fact, it's fair to say that they worked really hard for us, it was impressive. They have a genuine desire to please and we found them real team players. The result of their efforts made for an application that totally worked for us and our needs, the application pushed the planning boundaries but not so much that the application was refused and made costly, they trod the line perfectly. I sit writing this in our now completed two story extension, it really is a picture of beauty inside and out. It's a home design that works for every occasion and we are delighted. So much credit sits squarely on the van Ellen Sheryn's teams shoulders, we'd recommend and work with them again without hesitation.
My husband and I are in the process of turning a damp-infested. nastily converted barn from the 1980's into what we hope will be a beautiful, architecturally interesting base in cornwall. We are ambitious for it but like most people, don't have an endless pot of money. We are also completely new to anything like this. We've never even used an architect before. We met many, most of whom were based closer but it was perfectly obvious to both of us that Eilir and his team were the ones we wanted to use despite their practice being Devon, not Cornwall based. Logistically it's not as sensible but in every other respect they far outclassed everyone else we met. We loved their work and felt our aesthetic was similar. Plus we felt we'd get on as people. And be able to lean on them when things got stressful as they inevitably will do! We are yet to begin the build but have done the design and got planning approval, undoubtedly thanks to Van Ellen & Sheryn. Eilir and David contributed so much to getting the design through planning, really working with the council to ensure it would get approval. It is quite a brave design for a barn so we hadn't expected it to be so smooth but Van Ellen & Sheryn managed to achieve our mutual ambition for the project, whilst at the same time satisfying any potential concerns the council might have. What is also hugely helpful is how promptly and thoroughly they respond to concerns or silly questions we might have. I feel I always have counsel when I need it, someone I can lean on, who I trust, for advice. We have expensive taste but not really the budget to back it up! Going into the next set of drawings, that is something that has worried us, but we have been able to lean on Van Ellen & Sheryn who are advising us on bringing the costs down on the build so they hit our budget. Beautiful, interesting, sympathetic design generated by lovely, talented people who have given us lots of time and attention when we ask for it. And they have great knowledge - and taste. From my experience so far, they are a class act.

Perrett & Family Builders
Eilir, Freddie and the team make us very #happybuilders. They provide fantastic plans for us to work from, lovely clients to work with - and at the same time, are happy for us to collaborate early on in the project when we are brought in by a client to work together from the start. Forward-thinking, efficient, practical and always place the client at the centre. A breath of fresh air.
We couldn't recommend Eilir and his team more. From the first meeting, we've been delighted with the support, advice and help we've received and the design is everything or more than we hoped for! Eilir listened to all our thoughts/ requests/ideas and has designed a fantastic house. We were particularly worried about cost but have never felt pressured into building something we can't afford.
We are 5 months in to a 7 month build on our 1930's Arts and Crafts house in Torquay, the design of which Van Ellen created for us. We were instantly impressed by their designs but it's only since the build / renovation has moved in to its final stages do we really appreciate the wonderful space they have created for us. The house, whilst always grand on the outside, was so muddled on the inside it felt cramped and depressing. Now the house can breath again - it's light and airy, the high ceilings and large open spaces give a sense of grandeur, the rooms flow beautifully. We're still 2 months from move in but we already know that with Eilir and Dave's help we have created our forever family home.

We have worked with the team at van Ellen and Sheryn on 6 projects as there Principle Contractors. 3 of the projects have been in a National park and one on a listed building within the National park - this particular project was the first building to gain planning permission of its type - no small achievement and a credit to the practice. They are a very approachable practice who interpret the clients requirements with some original and practical design features that also meet the budget. The release and quality of the information on the drawings is clear and easy to work to. Each project has been better than the last - looking forward to working with the team on the next one!

A very professional and friendly practice to work with. They understood the importance of the lighting in such a beautiful building and we worked closely alongside them as well as the oak frame builders and the clients to create a functional and beautiful lighting design. We're looking forward to growing our relationship with van Ellen + Sheryn in the future.





Caroline Campbell Interior Design
Ellen + Sheryn Architects provided a beautiful and sympathetic design package to our listed period home. As well as explaining the limitations we were working within they created wonderful design solutions. They worked on a ground floor rear extension and full refurbishment of the internal space. The house feels spacious, light and well appointed. We have loads of storage elegantly blended into the space. After 8 years we still love every inch of the house and that's due to the foresight of Eilir and Freddie understanding the needs of a growing family. They assisted us when the budget started to grow in where the best options were to spend our money. Professional and approachable throughout our project. We would definitely look to work with this architect firm again.
van Ellen + Sheryn provided us with expert professional services as we undertook our first build project. It was a steep learning curve but Eilir and Freddie helped us through design (keeping to our brief), planning (negotiating with Dartmoor National Park), choosing a builder, drawing up contracts, advice during the build itself and a meticulous final snagging list. We couldn't have done it without them and we felt their combined experience locally made a huge difference to the project's success. Thank you very much!
We have been clients of van Ellen + Sheryn since their early days and have always found them a pleasure to work with. We are still with van Ellen + Sheryn partly because they are excellent architects but also because we get a highly personalised service. We are consistently looked after by the right person and our requests are dealt with swiftly
We used the van Ellen and Shwryn practice as we had been impressed by a project they had completed on Dartmoor. We worked alongside both Eilir and Ian and both were very approachable, experienced and informal....which we liked. They listened to our brief and appreciated that we had a budget. Our project was complicated as we wanted to retain the Georgian frontage of the building and demolish the rear, adding a contemporary barn like structure. They were always available and professional throughout.. It's reassuring to know they are just down the road should we need advice or clarification during the build process. We would certainly recommend them.
I have no hesitation in recommending van Ellen + Sheryn Architects to any prospective customer. My experience was excellent – great service without fault, and very good value for money. If I need to employ an Architect again I would engage van Ellen + Sheryn without question. van Ellen + Sheryn offered a flexible and scalable service from initial consultancy, through design and application, and even including project management of the build, according to our needs and budget. Our project was quite modest in scale, nonetheless the company were thorough and professional in every way, paying great attention to all the details, and showing full understanding of the many regulations, procedures and formalities that had to be observed for planning and building compliance. Van Ellen + Sheryn made the entire process very simple and easy to understand, explaining all the steps in plain English, providing valuable advice while interpreting our wishes and needs to deliver a design we were very happy with, and delivering or facilitating the planning applications, engineering drawings, surveys and consultancy with the builders and various other agencies, so that the project ran smoothly, on time and without stress. Thank you van Ellen + Sheryn!
Architecture and building works was something we had not done before and we found Van Ellen and Sheryn easy to work with and very professional, going beyond what was required to make the whole thing straight forward and trouble free. I wanted to convert an old conservatory into a usable space for all year round use. Van Ellen gave very good initial advice about what options were available to us with regards to the architectural work and costs. Then once we had agreed on a plan were excellent at giving us ideas based on what we thought, but added numerous options of theirs. They then gave us clear drawings of the different options and a smooth transition through the planning permission. They gave us numerous recommended contractors, material ideas, and even helped afterwards when the contractors had more technical questions at no extra cost.
We engaged van Ellen & Sheryn in 2013 to assist with the design of and planning for a new build house in Totnes, Devon which my family and I now very happily live in. We worked mostly with Eilir Sheryn who showed enthusiasm, skill and experience in helping us navigate our way through the project. In particular he was willing and able to follow our brief in respect of design and budget which, in our experience, not every architect will do. All of the staff at the firm are personable and professional and we would not hesitate to recommend them ( we have on two occasions ) and we are in fact currently discussing a new project with Eilir. Upon completion our house was featured in Homebuilding & Renovating magazine and will also appear the TV series " Building the Dream " sometime in 2016..........testament to a job well done. Simeon Rich & Sarah Farquharson

A friendly and professional practice - a pleasure to work with. Impressive timber frame design knowledge and excellent communication made this project an absolute joy - we hope to work with you again soon. So successful was this partnership that we've been jointly shortlisted for 'Best Oak Frame' at the Build It Awards 2014 - fingers crossed! Photo Credits: van Ellen + Sheryn




Back to Navigation
Award Winning Architects!
The Studio
5 Station Yard
Ashburton, Devon TQ13 7EF
United Kingdom
Typical Job Cost £250000 - £10000000


We will provide you with a fee proposals tailored to your specific needs. We will not try to sell you services we feel you do not require.