About Us
Refurbishment Project Management & Expert Guidance | London & Surrey
Whether you are completely refurbishing your home, enlarging through an extension or renovating your dream property we can guide you through every step of the way from gaining planning, selecting a principal contractor and managing the build. Maltwood offers a completely independent project management service from briefing and appointing the preferred design team, writing a detailed schedule of works to tender out to the preferred principal contractors and to advise on their appointment and most importantly manage the build through to completion as an independent project manager. We specialise in bespoke design and build/refurbishment projects which means once the designs are approved we can only then tender out to preferred contractors to accurately price which is a service a traditional design and build contractor will not be able or willing to provide. We only work with tried and tested professionals including architects, interior designers and contractors as well as a whole range of suppliers of finishes from bathrooms and kitchens to flooring and tiling. Our whole ethos is to provide a 'one stop shop' solution with one point of contact from start to completion.
Services Provided
Architectural Design, Architectural Drawings, Basement Conversion, Basement Design, Building Design, Home Renovation, House Extensions, House Plans, House Restoration, Kitchen Renovation, New Home Construction, Project Management, Site Planning, Space Planning, Structural Engineering, Home Remodeling
Areas Served
Twickenham, London, Home Counties, South West London, Chelsea, Notting Hill, Kensington & Chelsea, Surrey, Richmond upon Thames, Chobham, Cobham, Weybridge, Hampstead, Highgate, Knightsbridge, Chiswick, Kew, Teddington
Back to Navigation
Our Stories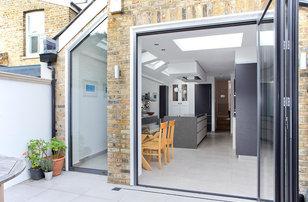 Sponsored story
When it comes to designing an inside-out kitchen, it's essential that you go with the flow, says this project manager
Item 1 of 1
Back to Navigation
Back to Navigation
Credentials
1 Houzz Award
5 Houzz Badges
Back to Navigation
Write a Review
17 Reviews for Maltwood
Average rating: 4.9 out of 5 stars
4.9
|
17 reviews
We used Maltwood for our showroom refurb, redecoration and tanking of the basement, Oliver project managed the whole process from writing the spec, obtaining quotes to appointing and managing the contractor to job completion. Maltwood kept the project seamless and stress free, Highly recommended .

As a kitchen designer, I work with many different builders, architects and designers, and sometimes project managers. Oliver at Maltwood is rare because he gets to the nitty gritty of managing a job whereas others often manage the paperwork and expect others to manage themselves. Oliver lets clients, builders and a associated suppliers and trades know what to expect and when, thus avoiding the almost inevitable shriek from the builder asking for something like tiles the next day when the client has not even chosen them. Proper project management reduces stress and usually saves money by having the job finished in a shorter time and avoiding things being done twice. Maltwood's input certainly makes my life easier!
Olly did a fantastic job helping my wife and I to design and project manage an interior redesign of our home in 2020, which included a conversion of two bedrooms into a single master suite with walk in wardrobe and ensuite, a further refit of the main bathroom, and full redecoration throughout. Particularly strong in supporting the tender process and connecting us with the highest quality contractors and suppliers, as well as his partner who is an interior designer with a great eye. I think 4.5 stars is probably most accurate as we did go over budget in certain areas, but then again we were inclined to get things done to the highest spec, and 6-7 months on we are glad we spent the money at the time to do things right.
Relationship
Received an estimate
Oliver advised us on a potential project that we were evaluating. He was extremely helpful, generous with his time and insight, and very tolerant of our novice questions. We ended up opting not to proceed on this occasion for other reasons, but he'll be top of our list when we do. Highly impressed by his professionalism and honesty.
Oliver has been instrumental to our project. He came onboard at tender and saw the project through to completion. I would highly recommend his services to anyone looking for a project manager.

Oliver and his team did a fantastic job managing the entire build on our property. Having been one of those all too familiar people who thought I could do this myself, having Maltwood on board taught me just how much you need a PM to take control of the build. 100% success. On schedule and on budget!
Olly helped us run a lot of work at our home last winter during a particularly busy time in our lives. Without his help, we would really have struggled to get everything done and he kept the work running on time and to budget.

By engaging with Oliver at Maltwood, clients can be assured that they are hiring a project manager that really understand the intricacies of residential construction. Born from experience, his knowledge and understanding of the many moving parts of any project allow the client to feel safe in the knowledge that they are in safe hands. A rear extension project and internal renovation, this was a high design scheme. A number of logistical challenges meant it was essential that the project was managed with the required level of attention and focus. Personable and professional, Oliver has been great to work with and long may that continue.
Extremely professional and with great attention to detail, Maltwood are able to provide excellent advice and knowledge on prime residential construction projects.
Relationship
Main contractor
Project successfully completed under Maltwood who, as project manager, handled the flow of information between client requirements and sub-contractors in a timely and well organised manner. We would recommend Maltwood and work with them again.
Oliver has proven to be a capable Project Manager who understands the process of residential refurbishments delivering high quality bespoke finishes. His communication of the brief and subsequent implementation of specialist packages allows us as the main contractor to get on with the job in hand. He is involved in all stages of the works and ensures that requests for information are processed in a timely manner. West Hill Projects look forward to working on future projects with Maltwood.
I have worked with Maltwood, (Oliver in particular) on 2 completed projects and another which is still in production. I found Oliver a delight to work with and he always went beyond the call of duty to ensure all the client needs were met. The fact that we are now working on a third project together within 2 years speaks for itself, i would definitely recommend Maltwood to all future clients.

Comment from Maltwood:
Thanks Natascha - just to add Natascha runs and owns ND Studios which are an Interior Design practice. We very much enjoy working with ND Studios as their designs are always very detailed and it allows us to ensure the contractors have clear direction at the costing stage but also at the build.
Back to Navigation
Back to Navigation
Offering virtual consultations!
Business is open as usual.
Korus House
6-8 Colne Road
Twickenham, Greater London TW1 4JR
United Kingdom
Typical Job Cost £50,000 - £1.5 million


Fees are made up of a percentage of the overall contract value as quoted above.