About Us
Award Winning Interior Design Studio || London
London's affordable and accessible interior design studio and winner of Best of Houzz for 7 years as well as a winner for the DreamHouzz 2019. DURING COVID 19, I CAN DO A VIRTUAL CONSULTATION FOLLOWED BY E-DESIGN SCHEME. I founded Honey Bee Interiors with the aim of making interior design accessible and affordable for everyone. As an experienced interior designer and stylist, I enjoy working on smaller projects including e-decoration as well as more involved design projects where I help to design, decorate, source and refurbish residential and commercial properties. I am also happy to provide advice and interior design schemes on a room by room basis. My style is bold, fun and colourful, mixing vintage influences with contemporary style. Most of all, I think it's important for spaces to have real character and to reflect your individuality. My past projects have been featured in Beautiful Homes, Ideal Homes and Living Etc. My clients often comment that I've created a home that feels exactly in keeping with their style - but just a little bit braver than they would have dared to choose on their own! From our initial consultation, I'll gather a good understanding of what you'd like to achieve with your space. We'll work closely together, as I always present you with different options for each aspect of the design. This means you'll be left with a space that you both love and feel connected to. I now also offer a kitchen design and installation service, and provide builders to help with a full renovation. I also own The Vintage Chandelier Company, where I discover and sell antique and vintage chandeliers that have been lovingly restored to make unique one off pieces for contemporary homes. You can take a look at www.vintagechandeliers.co.uk
Services Provided
Accessible Design, Bathroom Design, Bedroom Design, Bespoke Furniture, Decluttering, Dining Room Design, Furniture Selection, Home Office Design, Home Staging, Interior Design, Interior Styling, Kids' Room Design, Kitchen Design, Living Room Design, Nursery Design, Playroom Design, Project Management, Kitchen Renovation, E-Design Services
Areas Served
London, Islington, camden, queens park, willesden, kensal green, maida vale, little venice, hampstead, west hampstead, hadley wood, finchley, south hampstead, Richmond, Richmond Hill, Richmond Park, Richmond upon Thames, Hampstead Garden Suburb, Hampstead Heath, Stoke Newington, King's Cross, Shoreditch, Walthamstow, Chelsea, Greater London, Cockfosters, Colindale, Fulham, Fulham Broadway, Clapham, Queen's Park, Camden Town, Battersea, Clapham Common, Clapham Hill, Dalston, Hendon, Edgware, Stanmore, West Hampstead, Ealing, Ealing Broadway, Ealing Common, Acton, Acton Green, Crouch End, Crouch Hill, Muswell Hill, Knightsbridge, Sloane Square, West End
Awards
Best of Houzz Awards 2013, 14, 15, 16, 17 , 18, 19 Featured in Houzz UK press launch in the Sunday Times Featured in the July 2017 and June 18 issue of Living Etc Featured in Beautiful Homes Magazine Previous projects featured in Real Homes, Homes & Gardens DreamHouzz 19 winner
Back to Navigation
Our Stories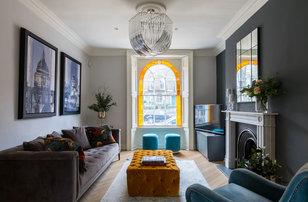 Sponsored story
A London interior designer shares her top tips for a spot-on colour scheme
Item 1 of 1
Back to Navigation
Back to Navigation
Credentials
14 Houzz Awards
6 Houzz Badges
Back to Navigation
Write a Review
46 Reviews for Honey Bee Interiors
I really enjoyed working with Sacha and am delighted with the finished house. She went above and beyond in so many different ways to create something very special. She has an excellent eye for design and sharp attention to detail. She's fast, friendly and a lot of fun to work with! I highly recommend Sacha and very much hope to work with her on more projects in the future.
Sacha did a fantastic job. I recently bought a flat in a Victorian property. Sacha suggested the best solutions to make the kitchen-living room feel more spacious, she opted for bright walls and pops of colour to give the room more interest and reflect my personality. She was listening to my ideas and she suggested the perfect combination of furniture in order to make the space look pretty and functional at the same time. I love that she put together contemporary classic pieces with a vintage touch as I was expecting. I ended up hiring her also for the bedroom and the guests room: all my colleagues saw the result in a Zoom call and I received lots of compliments on my new home office station! I'm still waiting for some furniture to arrive and can't wait to see the final look, but I definitely recommend Sacha if you are looking for someone that listens to your ideas and brings them into your home!

It has been a delight working with Sacha of Honey Bee Interiors on one of our projects in London from start to finish. We found her company after trawling Houzz and local designers online looking for an Interior designer which fitted our vision ( one off high end individual stylish homes). Honey Bee immediately stood out for us with its high end creative colourful style and flair and was exactly what we were after.Sacha is an excellent team leader and highly professional designer with creative ideas, strong opinions and outstanding communication skills. She has been a dream to work with and we look forward to starting our next project together very soon. Highly recommended. Keith O'Regan Oregan Homes
I first contacted Sacha with a very complicated interior design project. We recently to moved to the UK from the States and had to furnish an entire flat, as we could not have our furniture delivered due to COVID19 restrictions. From the start, Sacha understood our unique needs as a family with 2 young children, moving to a new country and having to navigate restrictions due to the pandemic. There were massive production delays but she was always quick to find a replacement item, etc. She was also intuitive about amplifying our style and creating an unique vision. She was also very mindful of our budget and worked efficiently. This project was very overwhelming for us and with her help it became manageable. This was my first time working with an interior designer and it was incredible the amount of time (and money) we saved by working with her. Overall, working with Sacha has been a delight and I would highly recommend her for any project.

At the beginning our our home renovation project, we quickly discovered that we needed some help. We were putting in a new bathroom from scratch, redoing our front bedroom, renovating the vaults/coal holes beneath the front pavement and redoing our front entrance hallway. Our builder did not have alot of creativity or vision, and my partner and I were busy with work. We found Sacha on Houzz and from our first conversation we knew she was right for us. She quickly understood our needs, our design style and how we work. She was able to put together a few design document very quickly which helped us order the fixtures, furniture, and flooring in a very timely manner, speeding up the construction time. Also, with her designer's discounts, we were able to save a surprised amount on money. She came to our house before the building work took place and gave our builder some key design tips that influenced how he built the new structure. Further, she toured the building site during the process and identified some other design elements that were missed. I didn't expect Sacha to liaise with us and with our builders as effectively as she did. She really took a personal (and professional) interest in our project and wasn't happy until it was right. Without Sacha, we would not have the wonderful space that we have now. I could not recommend her highly enough and constantly recommend her to friends doing both small and medium-sized projects.
Sasha is a Rockstar (!) designer and by far the best I have ever worked with. She did the interior design for my outdated 5-bedroom Victorian house in West London. Sacha is a great listener and problem solver who adopts quickly to the client's style. The result of her work is the modern Victorian interior with the mid-century and art-deco details that wows (!) my guests each time. Being a busy professional, I appreciated that Sacha has been very responsive during the day, delivering on time and being always a part of a solution rather than a problem. Also, thanks to her extensive connections with retailers I was able to purchase most of the items at very preferential prices.
I contacted Honey Bee Interiors for the design & furnishing of 3 large living spaces in our holiday home in Germany. From our initial phone call and my first brief, Sacha had a pretty clear idea of what I wanted. The service provided was very professional, and a full design concept was delivered under 2 weeks. Sasha provided me with many different sourcing options for each items, and made sure that I was able to order many items within Germany though European retailers. Given the nature of this remote project, Sacha was very responsive and available to answer any questions in a timely manner. Our budget was respected throughout the project, and I really appreciated her full transparency on costs. We are now waiting for our bespoke items to be finalized and will be trucking our UK made furniture soon. I look forward to receiving all the goods and placing them in our home. Will upload photos in due time. Thank You.

I approached Sacha to help with re-styling my flat to give it a complete refresh. My previous experience with interior styling and design is that some designers can be quite rigid with their sense of style and steer the project too far towards their own tastes. Sacha was completely the opposite and was fantastic at understanding my taste and what I wanted to go for, whilst helping to guide me to try some new ideas and pull each room together in a cohesive design. She is able to source some fantastic pieces and even managed to find some fantastic and unique art. Another brilliant positive was Sacha was able to recommend things she truly thought would fit the rooms and budgets, as opposed to necessarily steering me towards preferred suppliers etc. As well as the fantastic job sourcing items and creating really interesting and fitting mood boards, I found the best part of working with Sacha is how communicative and responsive to feedback she is through the process. Her ability to adjust and tweak the initial designs based on feedback and her happiness to hop on a call or email to act as a sounding board through the process really helped to ensure that I felt comfortable with all of the elements of the mood boards created. I wouldn't hesitate to use Sacha again for any future project or recommend her to anyone else looking for a similar service. Thanks again for the great work!

Sacha helped me with the interior design of my bedroom and living room. Overall, I'm very happy with the results. She provided lots of options, took my feedback on board, and tailored the design to my budget. Although not all my furniture has arrived yet, I'm happy with the pieces and know they will look great when they're in place. Honey Bee helped take my ideas/ inspiration to the next level.
I cannot praise Sacha enough. I hired her to completely redo my living room. I was quite concerned that an interior designer would be dismissive and intimidating. Sacha was a real partner instead. She listens to all my flights of fancy and takes them seriously and incorporates my ideas within my budget and consistent with my space. She has excellent taste and a real eye for space. She is also really transparent on the costs unlike most designers and she does not steer you to her preferred suppliers for a better secret discount. You go where you get the most beautiful items for your home. She visits you once and produces mood boards and sourcing to get the process started. However once you get a look she is so available and responsive for changes. She always says that she just wants me to love my room. After the endless emails and calls I really believe it. I really love working with her. Happy to recommend.

Sacha was very professional and put her heart in my project. We quickly came to an agreed design that represented well what I had in mind for my dining /living room. She was always available to chat and provided great advice. I highly recommend hiring Honey bee Interiors for your project if you want to make your dream house true ! hi
I approached Sacha for help with adding finishing touches to a room that was half finished. I knew what I wanted but I was really struggling to pull a cohesive style together and didn't know how to do it without straight up copying Instagram pics or replacing things at great expense. I was also worried that what I had so far was disastrous but Sacha put me at ease about the choices I had made and worked with them. She really understood the brief, I was amazed at how spot on she got it. I will have absolutely no hesitation in getting in touch with Sacha again.
Back to Navigation
Back to Navigation
Lets start planning your design today!
Save my photos and lets get started!
London, Greater London NW6 6LP
United Kingdom
Typical Job Cost £1,000 - £50,000


I offer individual room schemes starting from £500 - £1500 per room to whole houses and project management.