Happy Kitchens - Made to Measure Kitchens
About Us
Hampshire's Award Winning & Contemporary Kitchen Specialists
Based in Hampshire, Benny Reid and his team of designers have over 10 years of experience in the kitchen design industry. Happy Kitchens is a well-known and highly reputable company, helping clients design their dream kitchen completely made to measure but at an affordable price. We meet with each of our clients and bring our showroom to them! This way we can carefully look at your existing kitchen prior to recommending different doors, worktops, kick boards, lighting and paint colours. Book a consultation today! We're HAPPY to meet you.
Services Provided
Bespoke Cabinets, Bespoke Home Bars, Bespoke Kitchen Cabinets, Bespoke Kitchen Pantries, Bespoke Worktops, Boot Room Design, Complete Kitchen Renovation, Kitchen Design, Pantry Design, Utility Room Design, 3D Rendering, Bespoke Cabinet Doors, Kitchen Renovation, Bedroom Design, Bedroom Renovation, Bespoke Wardrobes
Areas Served
Swanmore, Hampshire, Winchester, Southampton, Portsmouth, Waterlooville, Hayling Island, Petersfield, Farnham, West Meon, Bishops Waltham, Botley, Whiteley, Alton, Bordon, Eastleigh, Hedge End, Romsey
Back to Navigation
Our Stories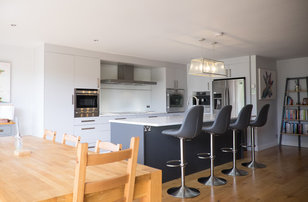 Sponsored story
Forget the sledgehammer! For a new-look kitchen, all you need is high-impact additions, says this kitchen designer
Item 1 of 1
Back to Navigation
Back to Navigation
Credentials
5 Houzz Awards
5 Houzz Badges
Back to Navigation
Write a Review
95 Reviews for Happy Kitchens - Made to Measure Kitchens
Average rating: 5 out of 5 stars
5.0
|
95 reviews

Back in early 2017, over 4 and a half years ago, Happy Kitchens did the most amazing job on my kitchen. Now nearly 5 years later, a couple of snagging points cropped up, a gas strut on an overhead cupboard wasn't working properly, and chrome had unusually deteriorated on a top of the range Franke tap spout. Sent Ben at Happy Kitchens a text on Monday....by Wednesday morning, literally 2 days later to the minute, new parts delivered and jobs all done. Now that's the real test.... after sales service of that standard nearly 5 years later. I have never known that kind of service from any company for any product. Outstanding. And the kitchen Ben and his team fitted looks as new as the day it was done. Top materials and fittings, top craftsmen. I don't usually do reviews, but this is so exceptional, had to be done.
Amazing service from the start, Ben came to our home and helped us decide and plan our kitchen. Dan and James arrived on day one and instantly got to work. They were brilliant with their social distancing,working in a COVID safe way. Any questions or concerns were addressed straight away and the fitting went totally to plan. We are thrilled with how it now looks. Thank you Happy Kitchens.
Sorry for the delayed review guys! You can only give 5 stars on here.. but i would give 10 if I could. From start to finish and in between they really are the company that all companies should aspire to be like! If Carlsberg did kitchens.. they wouldn't have anything on this company!! Ben, Dan and James thanks so much for our fab kitchen we love it.. it took me a few weeks to get used to Dan not being here entertaining me with his singing in the back ground A highly recommended company
Happy Kitchens installed a new worktop, sink, hob and Kitchen Island for us. From start to finish very happy with service and delighted with the end result, kitchen looks as good as new. Issue with worktop being bowed (poor delivery from supplier) was handled and resolved with minimal disruption. Would definitely recommend to anyone looking for a new or to update an existing kitchen!
Highly professional company, from the initial visit by Ben through to the fitting by Dan and James. Nothing was too much trouble. Dan and James were fantastic and worked very hard. Dan's attention to detail is second to none and he was ever helpful, coming up with suggestions to make improvements. I am delighted with my revamped kitchen and highly recommend Happy Kitchens.
Excellent service and workmanship. I was given really good advice and ideas. I am absolutely delighted with my upgraded kitchen and would recommend Happy Kitchens.
Happy Kitchens refurbished our kitchen in 2019, doing an excellent job and fully deserving a 5 star review at the time. A short time after completion, one of our soft-close draws stopped fully closing. As soon as we contacted Ben he arranged for one of his guys to call and fit new runners. Unfortuneatly, the drawer stopped closing properly again, but worry not, Ben arranged another call and this time the fitter noticed that the cabinet (not supplied or fitted by HK) wasnt quite square. 15 minutes later plus another set of runners and shims to true everything up, jobs a good'un ! So 10 out of 10 to Ben and the guys for cutomer service !
Happy Kitchens – Review : When I read a particularly good review of a tradesman or company, I am always skeptical. "Sounds too good to be true" I think "this was probably written by one of their mates or a family member, trying to do them a favour". So, let me preface this review by saying my wife and I are just normal customers. We just took a chance on the company recommended by a friend (like you do) and have never previously met the guys at Happy Kitchens. Right! With that out of the way – if you are looking for a reliable, professional, efficient, and friendly bunch of people to fit your new kitchen, then I cannot rate Happy Kitchens highly enough. Superb attitude: •Always arrived on time •Neat, tidy, respectful of you and your living space •Polite, considerate, open to discuss any questions, concerns, ideas •Extremely professional attention to detail •They brought a level of enthusiasm to the work that made it clear that, despite having a lot of experience, ours was not just "the next job". It is clearly a matter of personal and professional PRIDE to deliver something excellent to each customer Special attention to detail: We chose the look and feel of our kitchen…but…Happy Kitchens expertise means we were offered even more options to improve it. None of these ideas were mine – they all came from Dan (our kitchen installer) to improve the look and function of our kitchen. •Our kitchen ceiling is not straight - Exact measurements were taken during the kitchen installation to ensure that all new cabinets and fittings appeared "correct to the eye" against the camber of the ceiling! A superb eye for detail. •Existing plumbing setup was IMPROVED giving me better access to water stop valves than before. Ugly pipes that used to be visible were neatly boxed away and the box painted to match our kitchen. •Existing electrics were IMPROVED giving me greater options to add future LED lighting if I choose to. •Gas setup was installed safely and efficiently and given a full professional safety inspection (with certificate). •I was given the opportunity to choose the exact cut and shape of the kitchen work surface corners, the exact position of all cupboard and drawer handles and was given additional storage options to suit my preferences. •Extra effort and focus went into achieving a 'seamless' appearance to all new fittings down to the finest detail. Edges were skimmed, and walls repainted (where necessary), surfaces were sanded and leveled professionally to achieve this. Clean edging was precisely applied to all new splash boards – in short, nothing was done without serious thought given to achieving a totally professional looking finish on everything. Covid -19: Full consideration was given to all aspects of working in someone else's home during this bizarre pandemic. •Personal space was given •Due attention to personal hygiene, hand washing, etc. •Gloves were worn •The guys were reassuringly open about their own experiences or contact with other people •My wife and I are working from home, so things like noise levels, when it was safe to cut off the power and any other potential disruptions were all carefully considered to minimise negative impact on 'home office life'. Fantastic. Customer Service: Early in the fitting process there was a short delay caused because some of the cabinets were not ready to be supplied. We were informed of this straight away and a sincere apology was given. Without us asking or making any fuss, Happy Kitchens gave us: •Some money back on the overall cost of our kitchen as an apology •A big BOTTLE OF CHAMPAGNE (Good stuff…not cheap!) •We were personally visited by Ben (the boss) to check we were doing ok. All this for what amounted to less than a week's delay at very little inconvenience to us. For all other companies wondering - this is what truly excellent customer service looks like! Result : Our kitchen looks superb - just like we planned it. It functions way better than it used to, and we are genuinely excited to get stuck in and start using it. I have heard a lot of 'kitchen nightmare' stories and so prepared myself for some problems. With so many components (plumbing, electrics, gas, water function and aesthetics) there is LOT that could go wrong. Thankfully – Happy Kitchens have the expertise to make the hard work look easy. As you can probably tell from the emphatic review, I cannot recommend them strongly enough
happy kitchens. WOW WOW WOW . Thank you so much for giving us the wow factor we asked for. From our first meeting with Ben we knew we had chosen the right guys. HIs professional and laid back approach means it doesn't feel like a hard sell. He is knowledge and suggestions on design and look were fab., really understanding what you are looking to achieve and coming up with some amazing ideas. we booked in had a date to commence and sadly Then came covid 19 and the project was put on hold. Thankfully once the lockdown eased the project could go ahead. SUPER DAN ARRIVED and was ABSOLUTELY amazing. His attention to detail his craftmanship and skill meant we received a finished product way beyond our expectation. the social distancing protocols worked perfectly and the job finished to time. If you are in the market for a makeover or new kitchen- we had mostly new with some cupboards staying then these guys will deliver. fabulous quality, great value for money and nothings a problem attitude. Dan couldn't have done all the work without James who is a fabulous addition to the team again going about his work with a high degree of care and thought. We would recommend Happy kitchens without doubt and look forward to posting some pictures in the next few weeks when we have our floor finished
I have used many contractors over the years some good some bad we now live in a retirment apartment in Hayling Island and needed the Kitchen refurbished after having a few quotes from different companies I saw an advert for happy kitchens contacted them and they came out to quote and from then on I had a very HAPPY experience iI would go so far as to say the best experience from any contractors I have used they were superb friendly courteous nothing was to much trouble and nice to see craftsmen are still around. Ben was true business professional and Mitch and James carried out a really nice job very pleased and would highly recommend this company with no hesitation whatsoever and for what I considered a very reasonable price All the best for the future to HAPPY KITCHENS

Ben and his team have been nothing short of exceptional throughout the process of renovating my kitchen, no problem is too difficult to solve, nor too small for consideration. Upon changing my mind about some details on the fly, the team at Happy Kitchens were able to handle these with a great level of flexibility and ingenuity. Most companies would install a product to a specification, but the service offered is more bespoke, and as a result leaves a better quality finish. Every design suggestion that Ben made was clearly made with the customers best interest at heart, instead of whichever brand or product gives the best margins. The work was completed to an unparalleled standard, with particular credit due to Dan for his attention to detail (possibly even more OCD than me!) and strong work ethic. I would not hesitate to recommend Happy Kitchens to anyone!

We have recently had a makeover of our very tired looking kitchen with Happy Kitchens & Interiors and are absolutely delighted with the result and high standard of workmanship accomplished. The whole process from beginning to end has been entirely straightforward and stress free with Dan and James working very hard as a team and paying close attention to every detail and Ben giving us the benefit of his expert advice on colours and materials in the first place. We would highly recommend this company to anyone considering a similar project - they won't be disappointed!
Back to Navigation
Back to Navigation
Top Reviewed Houzz Professional!
Orchardlea
Swanmore, Hampshire SO32 2QZ
United Kingdom
Typical Job Cost £20,000 - £100,000