PlaceDesign Kitchens and Interiors
About Us
London's Creative Kitchen and Furniture Designer
PlaceDesign Kitchens & Interiors is an award-winning company. We design both bespoke furniture and more standardised modular systems for kitchens, bedrooms, bathrooms, wine cellars and media rooms throughout London (and sometimes beyond). We pride ourselves on our intelligent & creative design solutions, so whether it is a fully bespoke kitchen an architectural design issue, a bedroom design or a simple bookshelf we can design, supply and install it for you. We work with the only highest quality materials and with a team of the best craftsman, installers, builders and manufacturers available. John is involved from start to finish on each project and manages every detail. Clients can expect exceptional value for money along with experience, creativity and efficiency. Read our reviews to hear more about what our clients have to say! As a winner of 'Best of Houzz' in customer service for seven years running, it is our priority to provide our clients with an efficient and stress-free experience with us. If you are wondering about a project, please get in touch with us today! We would certainly be glad to assist you.
Services Provided
Bespoke Cabinets, Bespoke Home Bars, Bespoke Kitchen Cabinets, Bespoke Kitchen Pantries, Complete Kitchen Renovation, Kitchen Design, Utility Room Design, Kitchen Renovation, Home Renovation
Areas Served
London, Essex, Hackney, Islington, Chislehurst, Walthamstow, Stoke Newington, Clapton, Richmond upon Thames, Bromley, Lewisham, Tower Hamlets, Camden, Angel, Highbury and Islington, Barking, Dulwich, Balham, Clapham, Enfield, Hertfordshire, Greenwich, Newham, Hampstead, Dartford, Harlow, St Albans, Docklands, Clerkenwell, Battersea, Lambeth, Loughton, Romford
Awards
Best of Houzz Customer Service 2015, 2016, 2017, 2018,2019, 2020 and 2021 Best of Houzz Design 2017
Back to Navigation
Our Stories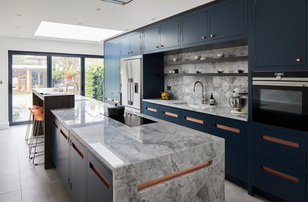 Sponsored story
John Place, owner of PlaceDesign Kitchens and Interiors, gives his tips for creating a well-planned kitchen
Item 1 of 1
Back to Navigation
Back to Navigation
Credentials
8 Houzz Awards
6 Houzz Badges
Back to Navigation
Write a Review
34 Reviews for PlaceDesign Kitchens and Interiors
Average rating: 5 out of 5 stars
5.0
|
34 reviews
John was brilliant at understanding our needs, our taste and our personalities. He created a design which is streamlined, welcoming, restful and so lovely to be in. We particularly appreciated the care he took with us, since this was our first major home improvement project. The builders that he recommended were excellent, and John project-managed the work from start to finish, always going the extra mile to make sure we got things just right. He gave excellent advice and guidance, while giving us space to make our own decisions. We would not hesitate to recommend PlaceDesign.

John was first class. He provide us the confidence and support for us to deliver our kitchen project. He listened, took on board our ideas, helped plug the gaps and gently redirected when we were going too far off piste. His build team, led by Matt, were easy to work with, generally pretty clean and tidy, and when they uncovered some nasty surprises during the work they didn't come back and look to reopen negotiations. The only additional items in the final bill were extra things I requested along the way, which they were happy to accommodate. They snagged their own work, the few additional things I spotted were quickly dealt with and they immediately came back at their costs to deal with the one item that cropped up after completion. I couldn't fault the experience, particularly during the challenges of Covid. I wouldn't hesitate to recommend John and his team, and I fully expect to use them again myself for future projects.







It was a pleasure working with John on the design of our new kitchen! We knew we wanted an open plan space and a kitchen island/ bar, but could not come up with a solution for all the tricky aspects such as windows in the 'wrong' place etc. Everything became clear though once John got involved. During our first meeting he mainly listened to our ideas and asked the right questions about what sort of kitchen users we are and what our wishes and needs are, and which parts are non-negotiable. A few days later John showed us a first design which really wowed us as he challenged assumptions about how to use the space we had available. This first design was pretty much spot on, and we spent another couple of meeting together tweaking details and deciding on products, colours etc. Looking at samples was incredibly helpful and John had all the right contacts to enable us to do so. John was never far from the phone or email and continued to listen, give practical advice and share his honest opinion which we really appreciated. The results are a beautiful kitchen, sleek countertop with materials that are robust, beautiful to look at and touch, and from sustainability certified suppliers - and all of this on budget! Giant thanks to John who helped us creating a space we love and cherish every day!

We couldn't be happier with our new kitchen. John and team were excellent through. They use good quality suppliers, deliver fats and to a very high standard of workmanship and were patient and flexible to our evolving requirements. I would highly recommend John and team to others.
We were at a sticking point with our refurbishment when we decided to use John. We knew what we wanted but couldn't see how it would work. John showed us various layouts and options so that we could move forward with the project and we are delighted with the results. Our space has been totally transformed from several small spaces to an open plan design perfect for a family. John is friendly and professional and we would highly reccommend him to anyone.
Finally making my dream kitchen a reality was pretty daunting. John listened to my (long!) list of requirements and incorporated them into the final design. He also made some excellent suggestions which l hadn't even considered. Repositioning the oven and replacing with pan drawers has really improved the overall look of the kitchen, and framing the fridge with cupboards transformed our original plans. His experience really shone through, especially with his advice and guidance on worktop materials. It really helped us think about using the kitchen over the longer term and we couldn't be happier with the results. John's trades people are of a very high standard and are very tidy and polite. John was also always available to discuss any thoughts and concerns I had, which were many! His calmness and experience helped take the stress out of making decisions. Although I was dreading the work physically starting, he made the whole project fun. I really felt like I was in safe hands and did not have to worry. I can't recommend him highly enough.
John designed and executed brilliantly on our new kitchen. He project managed his building team (Kris and Matt etc) fantastically and made it a pain free process for us. The pictures speak for themselves. Thanks John !





I wanted to take the time to recommend John at Place Design. The work he did for us was exceptional. He is completely professional but also friendly and understanding. I had very strong ideas about what I wanted the kitchen to achieve. John took the time to understand how our family lives before designing the kitchen. I wanted it all, a kitchen that was beautiful but also practical for my family. John delivered on so many levels. He came to visit several times, also came to look at the space as it was being built and gave feedback on various different aspects of the space as it was being created. I wanted to wait a few months and live in the house before I wrote a review. After all the proof of the pudding and all that! It is frankly just even better than we had hoped for. I am currently sat working from home at my lovely breakfast bar looking through my lovely french windows over the garden. What I have is a wonderful, calming space that can cope with the madness of two teenagers at mealtimes, art projects, homework. Also it works well when we have 3 million kids round (well it feels like it!) If you are planning a project I cannot recommend John enough. His honesty and commitment to excellence, along with his friendly and flexible approach are second to none.





Comment from PlaceDesign Kitchens and Interiors:
Thanks so much for taking the time to write that amazing review Michelle. So glad you feel that way. It is a beautiful space and it's great to hear it all works so well for you and the family! Thanks again for your business it was a pleasure to work with you.
Outstanding! A very elegant kitchen done within the budget that was established.The project extend to a downstairs toilet,dining room floor and hall.The kitchen is the heart of most houses and indeed is having a warm effect in all the family gathering.All materials and appliances used of high standard , and all the drawers and cupboards work smoothly and very practical.Finally i am having a very organized kitchen !! John Place is an excellent designer, listen to your needs,very polite and understanding with immense attention to details.He is very knowledgeable in all the areas design to construction. He is the Best.
Beautiful classic shaker kitchen from Place Design. After looking at many different companies, we asked John from Place Design to design and supply a shaker style kitchen as part of our recent home extension. John gave nothing but perfect service. His design credentials really shone as he came up with imaginative and creative ideas which resulted in our stunning new kitchen. The quality of the cabinets & finish is superb and the project hasn't broken the bank. I cannot recommend Place Design enough


John helped us from the outset in terms of designing and planning our dream kitchen and 2 new bathrooms. His suggestions during all phases of the project were indicative of his vast experience in designing and installing beautiful functional spaces. He brought with him a team of incredible fitters and builders who were able to complete other aspects of our project including installation of a new kitchen roof and roof lantern, new central heating, full decoration, restoration of hardwood flooring etc. The project was substantial and John played a pivotal role through the renovation. He was able and happy to work within our budget and added huge value in helping us decide which elements could be compromised on and which couldn't thus maintaining the high end finish we wanted. We are absolutely delighted with the kitchen, bathrooms and what was a significant transformation. Our project was completed in agreed timelines and to our specified budget. I have absolutely no reservations in highly recommending John.
We've been enjoying using our new family kitchen for the last month. I found John Place (by chance) on the Houzz website, I'm so glad I did. I was I initially nervous about using a kitchen designer based soley on website reviews. I'm a bit of a traditionalist and my initial plan was to use a designer based in a showroom. Any concerns I had were forgotten after initial consultations with John and conversations with his former customers. After our initial meetings he came up with different plan options for our kitchen. The plan we liked best included a beautiful bespoke island and a utility room which conceals our washing machine, dryer and microwave behind bi-fold doors. There's so much we like about our new kitchen. Our favourite bit is the bespoke island. It's great to look at and perfectly suited to enjoying a drink and a chat with family and friends. I'd definitely recommend using John, particularly as he gave design ideas for the whole build not just the kitchen.
Back to Navigation
Back to Navigation
Houzz Recommended Kitchen Designer!
Online Design Consultations Available.
46 King George Avenue
London, Greater London E16 3HP
United Kingdom
Typical Job Cost £20,000 - £100,000


Projects can start at around £20,000 for a kitchen complete design supply and installation.