Schmidt Kitchens Wimbledon
About Us
Award-Winning & Timeless Kitchens Designs Based in SW London
Our team at Schmidt Wimbledon have been bringing high quality and timeless kitchens into homes for the last twenty years. With the kitchen being the heart of every home, we make it our goal to create a beautiful space of functionality, personality and style. Being a family run business, we firmly believe in providing a personal service and tailor each project to the individual's style, family and needs to ensure that our kitchens will last a lifetime. With a fully functional showroom in Wimbledon, you can come and visualise your dream kitchen, as well as bedrooms and bathrooms. We always welcome all visitors, with customer parking available. Say you found us on HOUZZ and we'll give you a John Lewis voucher with the purchase of your new kitchen. Visit us today!
Services Provided
Bespoke Cabinets, Bespoke Home Bars, Bespoke Kitchen Cabinets, Bespoke Kitchen Pantries, Bespoke Worktops, Kitchen Design, Pantry Design, Utility Room Design, Bespoke Cabinet Doors, Kitchen Renovation, Oven Installation, Bespoke Fitted Furniture, Bespoke Shelving, Home Renovation, House Extensions
Areas Served
London, Wimbledon, Wimbledon Common, Wimbledon Park, Merton, SW19, Colliers Wood, Mitcham, Mordon, New Malden, Putney Heath, Richmond Park, Kingston upon Thames, Norbiton, Raynes Park, Copse Hill, Wandsworth, Wandsworth Common, Earlsfield, Southfields
Awards
Merton Best New Business Runner Up 2014
Back to Navigation
Our Stories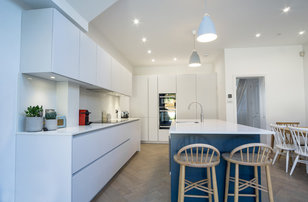 Sponsored story
Think of your island as the control centre of your kitchen and you'll create a super-efficient space that's utterly chic
Item 1 of 1
Back to Navigation
Back to Navigation
Credentials
2 Houzz Awards
4 Houzz Badges
Back to Navigation
Write a Review
46 Reviews for Schmidt Kitchens Wimbledon
Average rating: 4.9 out of 5 stars
4.9
|
46 reviews
If you are in the market for a new kitchen, and are based within reach of South West London, you can do none better than to choose Schmidt in Wimbledon. From my first enquiries about updating my old and tired kitchen, Charley and his team were exceptionally friendly and attentive, putting together a smart, modern proposal to fit into my (admittedly small) space and suit all my requirements exactly. At every stage, from design, measurements, timetable, and construction, the service and quality I felt were a definite cut above the competition one may find elsewhere. All my queries were answered clearly, and even when I asked for one minor change at planning stage (namely, switching the sink from a single to a double), Charley worked tirelessly to find a solution which worked, keeping me informed at every level. To invest in a new kitchen, as it was in my case, can be the biggest investment since actually acquiring the property itself; but the ease and attentiveness via which the project was managed, in conjunction with the excellent team of builders led by Devin, eliminated any stresses such an undertaking would normally entail. I now have a superb, top-quality, eye-catching and practical kitchen to be proud of - as well as one which is, I have to admit, quite intriguing. I'm not sure how Charley factored in such an ingenious use of space, particularly when I consider how awkward and stingy my previous kitchen used to be. Wizardry, I think, must be afoot. I would have no hesitation in engaging the services of Schmidt again for any other renovation or design project I may have in the future.
We really recommend Schmidt Wimbledon. We used them for our new kitchen last year and it was the best decision we made! Charley is absolutely fantastic and made sure to design us a kitchen that fitted our style but also suited our lifestyle and how we use our kitchen. From start to finish he worked tirelessly to get to know us, what we need, what we wanted and can up with a design that suits us down to the ground and within our budget. We are so happy with the finished product and would definitely use them again. Can't recommend highly enough!
I have had 2 Schmidt kitchen in 7 years. I look for quality, functionality and value. After extensive research Schmidt was the only option for me based on my requirements. I recently moved to a smaller property and was determined to source my 2nd kitchen from them. I went to the Wimbledon branch having read a number of very positive reviews online and had top level service from day 1. Charley was extremely helpful and supported us throughout the whole process. He came up with a design that was perfect for us. We had so much choice for units, worktops, appliances and storage solutions. We were anxious about this project during lockdown but the whole team at Wimbledon were so supportive and responsive to the challenges at this time. Our kitchen is perfect for us and the versatility of the units and quality of finish is outstanding. I would highly recommend not only Schmidt kitchens but also the Wimbledon branch. Jody and Pav
Charley offered excellent service, helping me to design my dream kitchen. He was responsive at all times, even when new issues arose at a later stage such as whether to house the boiler in the kitchen. He also accommodated late changes to the design and kept me up to date with estimated deliveries, even during the pandemic. Overall, I am very pleased with the design, finish and quality of my new kitchen.

Ryan, Charley and Alan have provided immense support and experienced guidance to help complete my home renovation project through such challenging times. The quality of the furniture is superb and I am absolutely thrilled with my new kitchen! I want to thank the team from the bottom of my heart for helping me achieve my vision. I am eternally thankful and hope to work with them moving forward.


We may be unusual as we had wall units for our lounge fitted rather than a kitchen. Schmidt were recommended to us by friends and we have found the service excellent. Charley and Asma patiently got to understand our needs and designed a perfect solution. Highly professional and good communications from start to finish.

I am delighted with my new kitchen and my experience working with Schmidt , Wimbledon. They have a great pro-active team there who are on top of every detail and are always on hand to help & offer advice. After speaking with several kitchen outlets I chose Schmidt mainly because of their customisability, giving me the kitchen as I really wanted it. The design process was extremely thorough, it probably took too long partly because their design software is very fiddly taking a while to make any tweaks. Their order, delivery and installation processes are also really thorough which combined resulted in me getting a great and hassle free outcome.
I highly highly recommend Charley and Schmidt kitchens. Having re read all the other reviews I just want to echo everything everyone said. Brilliant team and service. Nothing was too much trouble. We completely re-did our kitchen, knocking through the downstairs rooms and extending and we were very unsure about what we wanted and the layout; Charley was brilliant. He is super professional and knowledgeable and guided us through making all the relevant decision in informed easy way. We never felt pressured to take a particular option and he really listened to our various (sometimes competing!) points of view - and managed it all beautifully. He then also worked with our builder and architect to ensure the kitchen all fitted correctly and did a few site visits which we was impressed with - and I think made a difference to the ease of the building and installation work. We are really thrilled with the kitchen itself. One of the best bits of advice Charley gave us was that gloss cupboards would be a bit much and he was spot on. The matt white cupboard finish is superb. Same goes for the Bora cooker with the built in extractor – would never use anything else now if I had the choice!.Functionally, its all brilliant. Charley is also an extremely nice, positive and good humoured person to work with and I was sad that the contact had come to an end really as he's such a pleasure to be with.





The first time we have heard from Schmidt Kitchens, was through one of my husband costumers. And from the moment we stepped on the showroom Charley, has welcomed us with the most relaxing and knowledgeable way ever. Almost like he could read our minds but without being pretentious, which is the way we like costumer service. We have been affected by first covid lockdown, but thanks to his HUGE patience and beautiful work, we have got and amazing kitchen. Costumers sometimes, we can be a pain.. we have to admit it. So a massive thank you, because from the first minute to the last you've been amazing. Honestly, we couldn't recommend enough how much is worth it to go. A happy family heading to Hove.
We have nothing but nice things to say about our whole experience. Charley was a superstar from start to finish and went above and beyond to help us receive our kitchen and get it installed when our project was in jeopardy during the height of the pandemic. The kitchen itself is solidly built and the storage options are amazing. Wish we had space for a 2nd pantry unit! Go see them, you won't regret it.
We were lucky enough to have Asma as the designer for our kitchen. From the very beginning she listened to and understood our requirements. The end result is a joy to work in. Asma was always on hand to answer any questions we had and was very involved in the entire process which was very reassuring. Professional and friendly at all times. Patient too which is essential in such projects. She was very accommodating to any changes we had and the final design was very well thought out. The kitchen itself is amazing with plenty of space, durable and beautiful to look at. High quality was very important to us and we are extremely pleased with the choice we made.

I had a great experience with the Schmidt Kitchens Wimbledon team. I ordered a new kitchen, our initial meeting went very well and we discussed my brief in detail. I was shown around the show room for additional suggestions, some of which I adopted straight away. The design they proposed was fantastic, it ticked all the boxes and more. Alas Covid happened and delivery and installation of the kitchen was delayed but Charley kept me informed regularly and stuck to the updated timeline. The very good thing coming out of the delay was that I had change of heart and decided on totally different fronts for the entire kitchen. Again, Schmidt was very understanding and patient and produced updated drawings and amended the quote appropriately. They were very reactive. The installation was a walk in the park, done as per the agreed calendar. Alan was precise, efficient, clean, and a pleasure to work with. As to the quality and range of products on offer, I could not praise Schmidt more. Our kitchen works a lot and it feels solid, yet is beautiful. You can put tons of stuff in the drawers, so much so that I currently have empty shelves! I strongly recommend you head to Schmidt Kitchen Wimbledon if you are planning on getting a new kitchen.
Offering Online Design Consultations!
51-55 Kingston Road
London, Greater London SW19 1JW
United Kingdom
Typical Job Cost £20,000 - £75,000