Fordingbridge, Hampshire

Upholsterers and Furniture Restorers

Upholsterers in Fordingbridge, Hampshire are your saving grace when it comes to refreshing your furniture or soft furnishings. It's true that when redesigning or redecorating a home, it's tempting to throw everything out and start again with all new furniture and decor. But this requires a big budget and a ruthless attitude, which may not necessarily be needed with all redesigns, so instead, consider hiring Fordingbridge, Hampshire furniture upholsterers to reupholster, repair, restore or redesign some key pieces for you. Upcycling has become more and more popular lately, as the fashion for retro and rustic furniture has returned, but doing it yourself can cause all sorts of mishaps, so professional furniture restoration specialists should be called in to handle the job properly, especially if the piece of furniture you're dealing with is particularly tricky.

More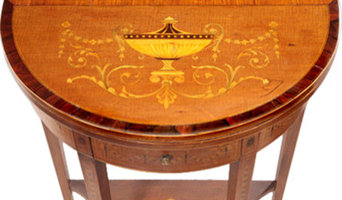 Lymington Restoration is a long-standing partner to Wick Antiques and is situated in the next door premises at...
Read More
01590 677558

Lymington

so41 9bb

,

Hampshire
Im a cabinet maker and french polisher now 39 years in .I love this trade and when you think you have done it all...
Read More
01747 851423

Shaftesbury

sp70bn

,

Dorset
Established in 1982. Member of "The Association of Master Upholsterer's" (a vetted organisation) since 1986....
Read More
023 8042 1555

Southampton

SO19 9LZ

,

Hampshire
Headed up by Derek Caplen, our staff are very proud to offer extensive knowledge and exceptional customer service...
Read More
023 8055 5888

Southampton

SO17 3SP

,

Hampshire
07711 480805

stockbridge

so206en
01985 988140

Warminster

BA1289qa

,

Wiltshire
01234 811099

Stockbridge

SO20 6EN
07881 944764

Poole

BH16 6HP

,

Dorset
441929401539

Wareham

bh206hh

,

Dorset