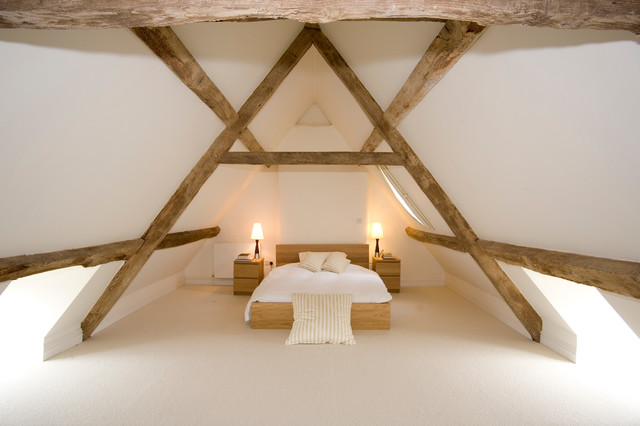 Barn Conversion, Gloucestershire
Contemporary Bedroom, Gloucestershire
Andy Marshall @fotofacade
Design ideas for a medium sized contemporary bedroom in Gloucestershire with white walls and carpet. — 
Houzz
What Houzz contributors are saying:

Tugman Studio added this to A Beginner's Guide to Loft Conversions
10 July 2017
Simply convertTechnically, a loft 'conversion' is where the space above bedroom ceilings and beneath a pitched roof is converted from a non-habitable, often uninsulated area for storing suitcases into a habitable space. To do this, typically both the roof and floor will need additional structural strength, insulation will have to be added, some daylight will need to be allowed in (often with a roof window) and a new staircase will be required.If your loft space has enough height (often a critical factor), then this can really be a very simple building operation indeed and can add a charming and effective new space to your home.

Lily Young added this to Dream Houzz: Blogger Carl Thompson Designs His Fantasy Home
26 October 2016
The guest bedroomSpare rooms shouldn't be extra storage space, piled high with boxes and unused items, with a bed pushed into the corner. A properly styled guest room not only makes you a fabulous host, it'll keep your friends and family coming back for more. Thompson's choice shows just how simple and stylish it can be. "Wow, this loft extension bedroom is too nice to actually be used!"

Lara Sargent added this to 11 Essential Elements for a Calm Bedroom
11 February 2016
Sleep in symmetry Simple, balanced décor can be just the ticket if you want to achieve a Zen-like state of calm.Anchor your bed with two bedside tables – bare wood is a good choice – and a pair of glowing lamps. Stick to a neutral, clean backdrop – white walls and bed linen – and let tranquillity reign.
Bedrooms with Similar Colours