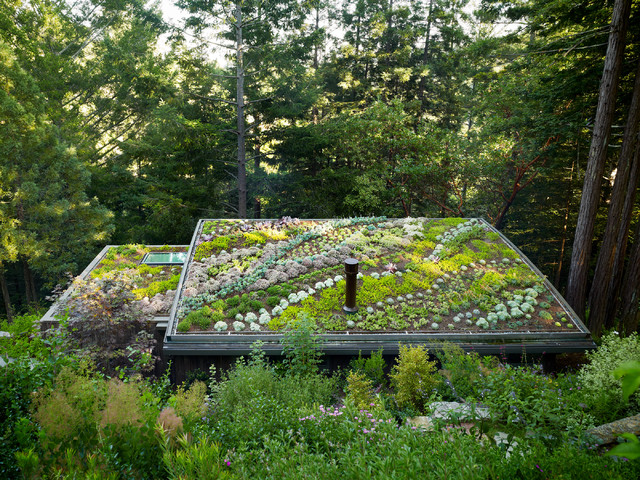 Mill Valley Cabins
Contemporary Garden, San Francisco
Inspiration for a contemporary garden in San Francisco. — 
Houzz
What Houzz contributors are saying:

Victoria Harrison added this to How to Renovate or Extend Without Destroying Wildlife Habitats
15 November 2021
Are there any positive ways renovation work could add to the biodiversity in a garden?"Soon, there will be a legal requirement for large developments to deliver '10% biodiversity net gain' – in other words, to ensure there's more wildlife after the development than before it," Adrian says. "Although that obligation won't fall to small extensions, it's a great principle to try to follow for the sake of the planet."Homeowners could add a green roof or green wall – either to the extension or to the existing building, he suggests, as well as incorporating integral wildlife bricks for swifts or bats, or nesting cups for house martins, "should the building elevations be appropriate for them".

VORBILD Architecture added this to Ask an Architect: Can I Make My Home More Ecofriendly?
12 August 2015
Add a green roofWhy not literally make your house 'green'? No, not by painting it, but by swapping the standard tiles for a gorgeous green roof. You'll need to start with a flat or low-slope roof, as the greater the slope, the more complicated the system becomes – so, again, this could be one for a planned kitchen extension, a garden room or even a shed.You can choose from a very low-maintenance option – sedum – which you inspect twice a year, or a more elaborate version as shown on this Californian cabin, where native shrubs have been planted to create a green mosaic.A green roof not only gives wildlife a new home, reduces water run-off and improves your amenity space, it will also look beautiful. Tempted? Read a beginner's guide to green roofs

Sarah Alcroft added this to Ask an Expert: A Beginner's Guide to Green Roofs
18 March 2015
What are the benefits?There are so many benefits to having a green roof, it almost seems rude not to order one immediately. Very pleasingly, they increase biodiversity. 'Our wildflower roofs include 38 species of wildflowers and grasses, which attract insects such as bees and butterflies,' says Tom Storrer of Sky Garden.They also help to mitigate flash flooding. According to The Green Roof Centre in Sheffield, up to 75% of rainwater is runoff in urban areas, thanks to so much of the ground being sealed by buildings, paving and roads. 'The green roof system holds a lot of water, which the plants absorb, helping to prevent flash flooding,' says Tom. 'The plants also help to purify rainwater, as they absorb a lot of toxins,' he adds.
What Houzz users are commenting on:

Aspen Garden and Landscape, LLC added this to Lakeside St.
4 August 2022
Mike - your photos definitely made me think of options for the roof of the boathouse.... could be both super cool and capture rainwater - making for a more sustainable place. do you imagine you could sacrifice some of that space for gardens if we can develop more seating lakeside? MIKE: I think I'd like to keep the top of the boathouse open for the most part, but I would not be opposed to planters around the edge.
Gardens with Similar Colours