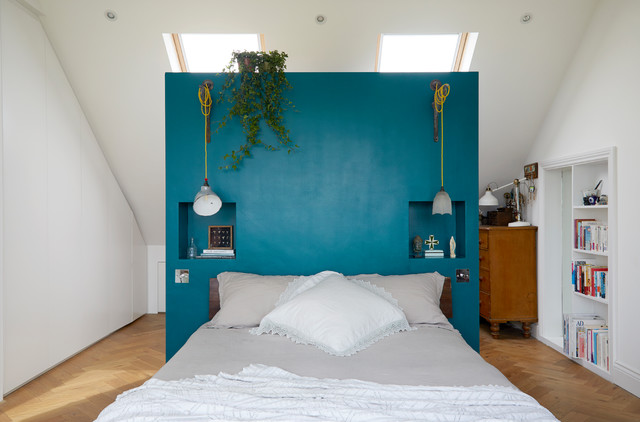 #TheLondonHomeDesignAwards
" Please confirm whether this is your own home?
Yes, this is my own home, purchased in 2014. The house is a 1920's semi. We bought it from a lady whose grand parents purchased the house off plans, so we are only the second owners in nearly 100 years!
" Please confirm that you live in London?
Yes, we live in London, in NW10.
" Is this property owned or rented?
Owned.
" Where is this home (area) and who lives here?
We live in Kensal Rise NW10. We love the neighbourhood's village feel, its quiet streets (perfect to learn how to ride a bike), friendly shopkeepers, local parks as well as the proximity to Central London.
We are a young family of 4: Nico & Emily (originally from France but Londoners for the past 14 years), our two boys: Leon 5 and Lucien 1 plus Jet, the Cat.
" What did you do to the space and how long did it take you?
We fully converted the loft which was previously an attic space. The build for the whole house took a year. The loft includes a walk in wardrobe section, a bedroom and an ensuite bathroom. We designed the new space ourselves, including new joinery (on the side wall, head board and under the eaves) as well as the bathroom; we layed new herringbone parquet floors, added full height sliding doors and a glass juliette balcony. We used a collection of drawings, paintings and family keepsakes to create a "gallery wall" of inspirational women which our kids love looking at.
" Who helped you with the project?
Our architects Newman Zieglmeier ( https://www.newmanzieglmeier.com)
helped us with the initial drawings for the house (especially external specifications) and secured planning permission. We then hired different contractors and oversaw the build ourselves.
" What's your favourite feature?
In the Master Bedroom my personal favourite feature is the walk in wardrobe which doubles up as a headboard. I love the practicality of being able to tuck away all the clutter whilst still benefiting from the dual aspect that the room offers, it maintains the feeling of space whilst doubling its use. Of course I am the one making the most use of the wardrobe so Nico's favourite feature is the lovely view that the new full height windows offer as well as the fact that we can look at the sunset from our bed.
" How much did it cost? 40K (whole loft conversion).

What Houzz contributors are saying:

What Houzzers are commenting on: