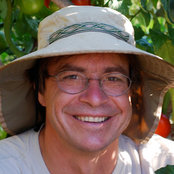 Steve Masley Consulting and Design
Commented: how do you make the tree trellis?
You dig post holes in a zig-zag pattern--like a series of W's, about a foot apart--then place sound redwood branches, 3 in each hole. Point one forward, one back, keep one in the middle. Then thread...
Commented: Build
Of course I'm concerned about ecology, I've been an organic gardener for 30 years. And as I said, I rely on client's contractors to build the beds and make them structurally sound. In my years in the...
Commented: Dimensions...
Domoni, if I remember correctly, the shorter one is 2' x 12' x 28", and the longer one is 2' x 16' x 28". The depth could be 30". These are actually a little too deep. Landscape fabric goes from 2"...