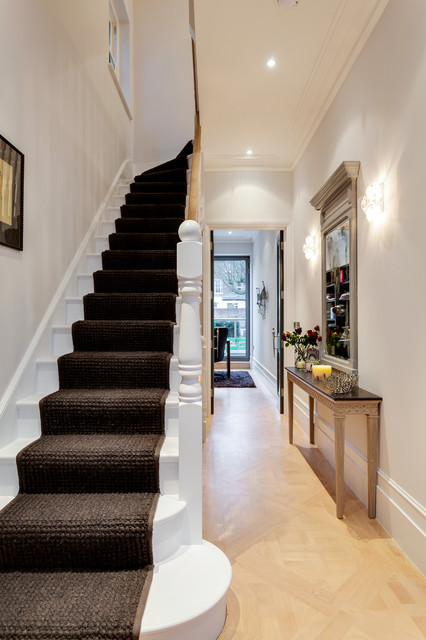 Advantage Basements London
Victorian Staircase, London
Photo of a small victorian wood l-shaped staircase in London with wood risers. — 
Houzz
What Houzz contributors are saying:

Coral Interiors added this to Styling: Where to Spend and Where to Save When Selling Your Home
10 September 2015
Create an uncluttered welcomeYour hallway sets the tone for your whole house, so it needs to be beautiful, inviting and, most importantly, uncluttered. Save Don't make viewers squeeze past over-laden coat racks, piles of shoes and buggies. Stow everything away out of sight to show that your house has ample storage. Spend No need to splurge here at all. Simply dress a console table with a vase of flowers and ideally place a large mirror over it. Your buyers will soon start to imagine themselves living a serene, uncluttered life in your home and be excited to see how the rest of the house looks.Discover the secrets of decluttering

Jo Leevers added this to Finding the Perfect Furniture Partner for Your Entrance
25 June 2014
Think thinMost Victorian and Edwardian hallways have very little space to play with, so it really pays to go super skinny with your furniture. This console has a large mirror above it, which makes it feel more substantial, yet it takes up very little room.

Jennifer Louise Ebert added this to Smart Ideas for Maximising a Small Hallway
27 April 2014
Plan a mirror into your schemeStrategically placed mirrors are a great choice for small rooms, as they create the optical illusion of a bigger space, as well as boosting light. This mirror reflects a busy bookcase, visually widening the hallway.Browse 10 ways to work magic with mirrors
Staircases with Similar Colours