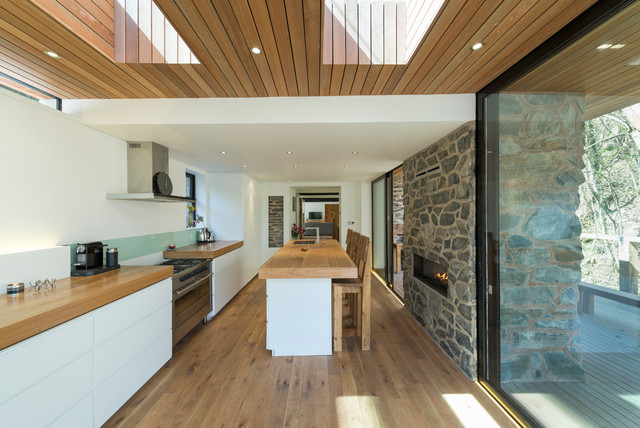 Rustic Solid Oak Flooring
Contemporary Kitchen
A recent picture of a barn conversion where we at Heritage supplied the rustic solid oak flooring. As you can see the flooring really sets off the room and adds so much character. Call us today on 0114 247 4917 for more information!
This is an example of a contemporary galley kitchen in Other with flat-panel cabinets, white cabinets, glass sheet splashback, stainless steel appliances, medium hardwood flooring and an island. — 
Houzz
What Houzz contributors are saying:

Sophie Baylis added this to 10 Things You Need to Know About Solid Wood Flooring
14 October 2016
Why does solid wood flooring shrink and expand? Wood is a living material and will react to the temperature of its surroundings. In winter, for example, doors and windows are shut and the heating is turned on, which will cause the relative humidity of the air to drop, thus wooden floors start to lose moisture and potentially shrink. Conversely, when the seasons change, the heating is turned off and doors and windows are left open, resulting in a rise in relative humidity. As a result, the floor starts to absorb moisture and expand. "Providing the increase is not too extreme, the boards will, in theory, return to their original size," explains Cleo Devenish of Havwoods.

Lara Sargent added this to Cosy Up Your Kitchen With a Fabulous Fireplace
3 November 2015
Link in with architectureYou can create a great sense of visual harmony by choosing a fireplace that echoes the proportions and architectural backdrop of your kitchen. This long, narrow fireplace mirrors the linear layout and rectangular shape of the kitchen to a T.Discover whether a handleless kitchen is right for you

Jo Simmons added this to Decorating: How to Incorporate Tactile Stone into Your Scheme
9 December 2014
Celebrate the structuralExposed stonework is often more than simply aesthetically pleasing. In this barn conversion, the stone enjoyed as part of the scheme inside is integral to the architecture of the house. The glazed doors allow you to see this, giving a view of the stonework outside and helping you to read the architecture of this ancient building.
What Houzz users are commenting on: