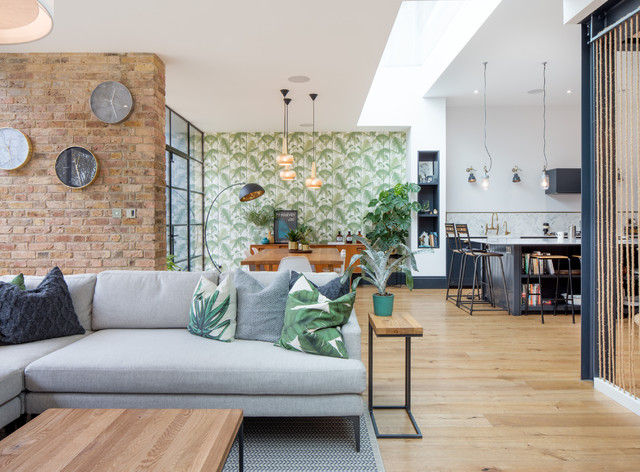 Tactile House
Contemporary Games Room, London
Open plan living and dining space with gorgeous texture and colour.

Whitaker Studio
Inspiration for a contemporary open plan games room in London with multi-coloured walls and light hardwood flooring. — 
Houzz
What Houzz contributors are saying:

Zuriñe Iturbe added this to What is Biophilic Design and Why is it So Good for Us?
16 September 2019
Incorporate windows that look out onto natural features. "Windows are the main interface between the home and nature," Béranger says.Use colours inspired by nature. For example, adopt the colour palette of a sunset, with its shades of orange, or the green and brown hues of a forest in autumn.

Victoria Harrison added this to 8 of the Best Ways to Arrange Indoor Plants
14 December 2018
Double the impact with wallpaperTo magnify the impact of indoor plants, you can reflect the pattern in textiles and wallpaper, as beautifully demonstrated here. There are only a handful of plants in this room, but it feels like a green oasis thanks to the fern-print wallpaper and leafy cushions. Shop for the perfect cushion on Houzz today.

Amanda Pollard added this to Creative Ideas for Your Dining Room Wall
30 October 2018
Play with paperBring an intimate feel to your dining area by using pattern on the wall. In this open-plan space, the dining zone is separated from the rest of the room by a surface of patterned wallpaper. By adding a covering like this, the designers have made the area cosier than the more functional kitchen nearby. Houseplants and leaf-patterned cushions help to tie the dining and living spaces together to bring balance to the room as a whole.
What Houzz users are commenting on:
catrienharris added this to Electricals
14 January 2021
Electricals – circadian rhythm Plan a layered lighting scheme with lamps and dimmer switches, as low lighting will help your mind and body to unwind in the evening. Keep screens out of the bedroom and invest in window treatments that block light from outside. "We now know that both light and darkness are very important to our biological clocks, or circadian rhythms. Yet our homes and our cities are bathed in light that flows through into our bedrooms, or from computers and phones, exposing us to light from morning through night-time." Try no to be exposed to blue light, or too much light, in the evening as it is crucial for a heathy circadian rhythm, which affects your sleep, your mood and even your eating habits and digestion.

Games Rooms with Similar Colours