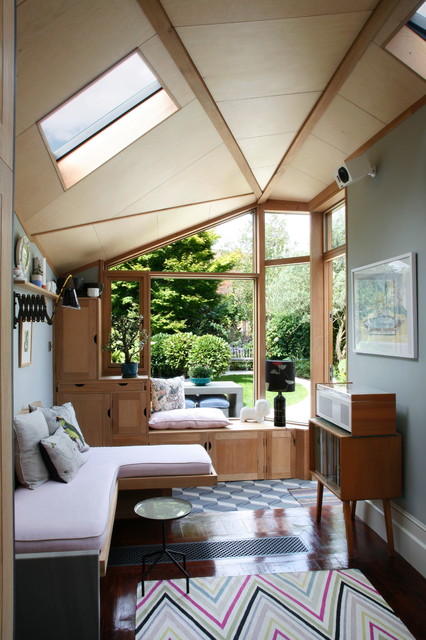 Victorian House S. East London
Midcentury Living Room, London
This is an example of a midcentury living room in London with grey walls and dark hardwood flooring. — 
Houzz
What Houzz contributors are saying:

Sarah Warwick added this to 10 Modern Window Seats
30 January 2018
Grow in styleThe window seat in this extension to an Edwardian house is part of a stepped structure that adds cupboard space as well as neat extra seating. Made from timber, the unit echoes the window frames and the bench seat base. Using wood in a window seat is also a simple way to link it with trees and plants in a garden beyond.

Kate Burt added this to 7 Sensitive and Creative Period Home Kitchen Extensions
5 January 2018
A lean-to is rebuilt to complement an Edwardian homeEgon Walesch from Egon Walesch Interiors & Flowers and his partner, Richard, had lived in their 1903-built home for 20 years before deciding to renovate the lean-to at the back of the building."The brief was about light, and creating a better relationship with the back of the house," explains architect Louise Sayarer from SASA Works. "We didn't want the extension to look like this new thing that had been packed onto the building. We were looking for something more holistic."

Kate Burt added this to Chasing Perfection? It Doesn't Exist, Say These Interiors Experts
9 May 2017
"Doesn't everyone have a tile disaster?"Egon Walesch, award-winning interior designer and blogger with bases in southeast London and Ireland.Egondesign.co.uk"This is about a tile disaster (doesn't everyone have a tile disaster?). Maybe not a disaster, but it is a little-known secret. When designing our garden room extension, we decided to put in some rather lovely encaustic tiles in shades of grey on the floor as it leads out to the garden. We spent quite a while working out the right way to lay the tiles, which we ordered from Spain, so that you got the best view of the pattern from within the room. "Unfortunately, the builders made some mistakes in the preparation of the floor and after a few months the tiles started to crack. The builders admitted their blunder and undertook to replace them so the tiles, as well as underfloor heating and screed, had to come out so they could replace it all. Having already lived through the whole building project, we couldn't face being there while they did all this again so we booked a holiday and handed over the keys to the builders. This time, they did it properly and we haven't had any problems… The only thing is, they didn't lay the tiles in the same way as before and we weren't there to tell them about optimising the pattern. Now, the best view of the pattern is from the garden outside! We didn't have the heart to tell the builders. And even I couldn't contemplate doing it a third time."See all of Walesch's home in this Houzz Tour
What Houzz users are commenting on:
HU-776082072 added this to kitchen
13 March 2021
window seat, cupboard underneath (or pull-out drawer?)
Living Rooms with Similar Colours