About Us
Architectural company focused on accomplishing your home dreams.
Founder + Lead Designer, Joseph Robertshaw, is an architectural designer that for the past decade has strived to create bespoke homes across the UK, from extensions, to remodels to new builds. Joe prides himself on, not only listening to, but also working closely with every client throughout the entire design process right through to the completion of the project. If you have a project in mind, then we would love to hear from you and would be happy to discuss ideas on how together we can achieve your architectural dreams.
Services Provided
3D Rendering, Accessible Design, Architectural Design, Architectural Drawings, Basement Conversion, Building Conservation, Building Design, Drafting, Eco Homes, Floor Plans, Garage Design, Garden Plans, Home Renovation, House Extensions, House Plans, House Restoration, Prefab Home Extensions, Space Planning, Sustainable Design, Tiny House Building, Custom Build Homes, Green Building
Areas Served
Nottingham, Derbyshire, West Yorkshire, yorkshire, Greater Manchester
Back to Navigation
Our Stories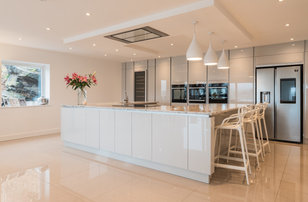 Sponsored story
'A thoughtfully designed home should reflect the owners' taste, lifestyle and make them happy,' say Place For Humans
Item 1 of 1
Back to Navigation
Back to Navigation
Credentials
1 Houzz Award
3 Houzz Badges
Back to Navigation
Write a Review
12 Reviews for Place for Humans
Average rating: 4.9 out of 5 stars
4.9
|
12 reviews
Joe at 'Place for Humans' is an absolute pleasure to work with, why? He listens! Joe took the time to carefully listen to what my wife and I were looking to achieve with the renovation of an Old Coach House (circa. 300 years). He took this input, threw in his own ideas and the results, at least on paper, look fantastic. Joe also provided us with the option of using computer generated imagery to be able to visualise the final results, something we did and were very pleased with the outcome. We are very excited to start the build process once we have planning permission etc. I have no hesitation in recommending Joe and 'Place for Humans' to other people given our own extremely positive experience.
Excellent service, prompt and courteous at all times. Innovative and knowledgable out of box thinking. Highly recommended.
Fantastic! Our needs and wants we're listened to and not only delivered but expectations surpassed at every step of our journey. Would recommend wholeheartedly, to anyone looking to extend a current home, build a new one or develop land.
Retrospective dormer planning in conservative area
Wow I have just heard "place for humans" has won an award,this is no surprise as joe is amazing not just at his job but as a person. he is so positive and caring no matter when I email or ring he always has time to talk and discuss things and explain everything clearly. (I have no idea how he finds all his time) It is very hard to find people that go above and beyond but joe excels at this.we are truly greatful. The work he has done for our planning issue has blown us away. We call him "GOD" in our house as he has rescued us from a tricky planning issue. We will never be able to thank joe enough for what he has done when times seemed gloomy he came along like a ray of positive sunshine and has worked with us listening to all our worries and concerns. This is not just a job for joe it's his passion and he works from his heart. Keep up the good work joe Thankyou The Taylors

Excellent service delivered everything we wanted from initial design to full support on building. They even took the time to do regular site visit to see if everything was as we expected. Cannot recommend them enough.






Place for Humans have been fantastic in helping us with a rear extension. Joe has arranged (COVID secure!) visits to the house firstly to understand our needs from the extension and secondly to go through the drawings. He has responded quickly to emails and always been available on the phone. We saw several architects before Joe and his friendliness, willingness to answer our questions and understanding of what we wanted done made us choose him. I wouldn't hesitate to recommend him to others.
Can't stress enough how happy I am with my build thanks to the team at place for humans, they where there every step of the way and helped me see possiblities I never thought of. I've never felt more at home than when I look around right now. Finally a house I can call a home. Thank you place for humans.

Came up with a top design and offered complete support throughout the build.


Joe was very helpful and professional all the way through my garage conversion and I would recommend him to everyone.
Working with Joe was a very enjoyable experience, he had options and designs I would never have thought of considering, and upon making my decision he fully backed my choices. Joe was pleasant and very approachable however small the query or big the challenge. I now consider him to be a friend too.
We did not want to move home due to work commitments, so internally revamping and extending our home, provided the perfect home we desired for so long, without the upheaval and stresses. We contacted numerous planning consultants/ architects but to no avail did they meet our strict demands and expectations. We then stumbled across Place For Humans who did not want to push us down a one way route, but who guided us through numerous designs that would meet what we required. Place For Humans spend undivided time addressing our needs, lifestyles, likes and dislikes to design our dream home, without breaking the bank. Once the plans were completed, Place For Humans took complete responsibility for the planning application which allowed us to start window shopping, the exciting bit. On approval the work immediately commenced. Place For Humans kept us updated throughout the project, provided much needed reassurance and advice/ recommendations throughout the journey. Providing alternative environmentally friendly solutions when necessary. Place For Humans met our full demands and needs at all times, to bring the project from consultation to reality. Making our dream home burst into life. We can not thank Joe enough for his professionalism and understanding of what we required, to make our home the perfect, safe, modern family environment. We would highly recommend his passion, commitment and undivided professionalism attention, displayed at all times.
Having worked with Joe to develop the branding and website for 'Place for Humans', I gathered an in-depth understanding of how Joe works and his ethos behind his practice. One of the first things that is clear when you meet Joe is his focus on people. He makes it his mission to really understand his clients needs, so he can find real solutions to their underlying problems. He has drive, great vision and a genuine want to help people. I would highly recommend Joe & Place for Humans to help find unique answers that are suited to real lives.
Back to Navigation
Back to Navigation
Offering virtual meetings!
Nottingham, Nottinghamshire NG1 5BL
United Kingdom
Typical Job Cost £15,000 - £2 million