About Us
Innovators in kitchen design since 1929. Founders of the handle-less kitchen. Developers of Pure, Urban and Classic concepts. Kitchen Interiors Trend Report SieMatic has defined the major trends that are set to dominate kitchen design in the coming years in a SieMatic Kitchen Interiors Trend Report. The evolving movements coveredare topics including furnishing, technology, materials, colours and social influence, drawing attention to the social shifts that explain why change is occurring. Follow the link below to see the full report. https://www.siematic.com/en/trendreport/?fbclid=IwAR1mI5K98MMjCgxENfxDoeJdSyOE-H6OYqO7_6fMOQY1S9hZCkva4-R2c3g
Services Provided
Bespoke Kitchen Cabinets
Areas Served
Manchester
Awards
Red Dot Design Award, Designpreis Nominee, IF Design Award, German Design Award, Interior Innovation Award, Good Design Award, Schoner Wohnen, White Star Nominee
Back to Navigation
Our Stories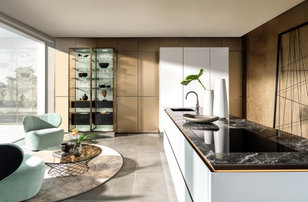 Sponsored story
From fuss-free dining to sustainable choices, which one of these trends would work in your home?
Item 1 of 1
Back to Navigation
Back to Navigation
Back to Navigation
Write a Review
2 Reviews for SieMatic UK
A year-long-and-counting nightmare I was SO excited to finally be able to get my dream kitchen. I saved, looked at other options but ultimately trusted that SieMatic would be a great quality and experience. HA! I picked from one of their custom colours 3010 R90B. (March 2016) The initial kitchen installed wasn't the right colour. (June) 2.5 months of begging them to come look (they kept insisting it was correct) they finally came, did a scan and oops, yeah it was the wrong colour. 3 months later (December) they installed the "right" kitchen. Most of the panels were correct, but some of the panels were different colours. They said that couldn't be, sent me an email blaming the fitter (Note, I was there--it wasn't the fitter. It was just wrong) To make a very long story short, right now I have a kitchen with 3 different colours. They have admitted in writing that it includes the correct colour 3010 R90B, a totally different colour 3010 R80B and one panel that's been resprayed (but when you spray one in isolation it will never match exactly) and is in "tolerance" of 3010 R90B. Basically I have 3 different colour blues right next to each other. It looks terrible. "Tolerance" is fine if the entire kitchen is slightly off the contracted colour--it's not fine when one panel doesn't match the one next to it, and the following panel on the other side is a completely different colour! I have a mishmash of colours on a very expensive kitchen. This is NOT the 'dream' kitchen I was so excited for. Every single time, they stonewalled, insisted they couldn't have made a mistake and delayed. Trust me, fighting a kitchen company isn't high on my 'things I have spare time to do' list. I just wanted them to take pride in their work, install the kitchen that I paid for and have it be correct the first time. Or the second. They're now not going to fix anything even though I have in writing FROM THEM that they know they have the wrong colour on some panels. Caveat emptor-----they have awesome advertising and the showrooms are beautiful. But the experience of just trying to get what you contracted and paid for will suck the life out of you.



ArtHouse Creative Interiors
Relationship
SieMatic Kitchen Dealer
We are always proud to be able to offer our clients a SieMatic Kitchen. SieMatic is the perfect Kitchen furniture to express personal taste and make a statement. SieMatic are constantly re developing styles and ideas so that we can offer our clients the very latest in design and functionality. They use the highest quality materials so that our clients Kitchens always look like new. ArtHouse Creative Interiors - SieMatic Dealer
Manchester, Cheshire SK83GP
United Kingdom