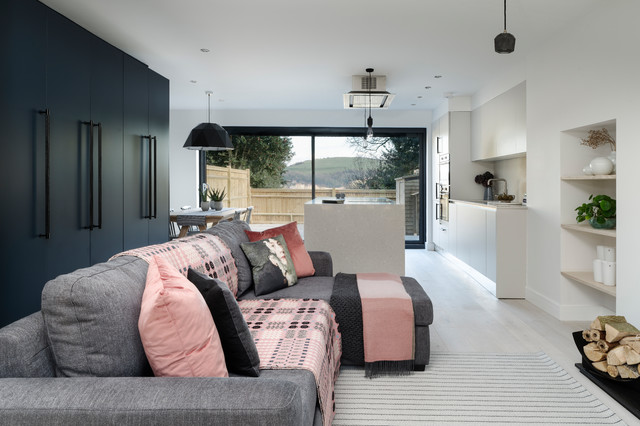 A 1980's Terrace, Remodelled & Modernised
Contemporary Living Room, Sussex
Photo: Richard Gooding Photography
Styling: Pascoe Interiors
Architecture & Interior renovation: fiftypointeight Architecture + Interiors
Design ideas for a small contemporary open plan living room in Sussex with white walls, light hardwood flooring, a wood burning stove and white floors. — 
Houzz
What Houzz contributors are saying:

Amanda Pollard added this to 5 Simple Ways to Ace Your Customer Service
17 August 2021
Stay in touchThe key to great customer service is communication, as this is really the only way you'll build a good relationship with your client. Intermittent check-ins won't really cut the mustard – if you want your customers to feel reassured, you'll need to be contactable throughout a project."Communication is very important and we've adapted to ensure this can either be face-to-face or virtual as the client prefers," Angus Eitel of fiftypointeight Architecture & Interiors says. "As the project progresses, more face-to-face communication is needed." He explains the importance of frequent meetings when the project is on site. This avoids too much progress being made without the client having the opportunity to see whether what's being built is what they were expecting.

Amanda Pollard added this to How to Add Overflow Kitchen Storage to an Open-plan Space
2 October 2018
Differentiate with colourTo add more storage for the cooking zone in this open-plan room, the designers positioned large kitchen cabinets in the living area. To ensure the cupboards blend into the cosy seating area, they've painted them a darker tone than the ones in the kitchen.

Amanda Pollard added this to Houzz Tour: A 1980s Home Updated for a Family's Modern Lifestyle
22 August 2018
At the back there was a low-roofed conservatory with a polycarbonate plastic roof. "It covered the windows in the kitchen and dining room, so you couldn't see out," Angus says. The team removed the conservatory and installed a wide, sliding door across the back wall to reveal beautiful views of the valley beyond. "I chose sliding doors to minimise the framing and maximise the view," Angus says. "They're the widest sliding doors you can get at a mid-range price, and the contractors were quite nervous about fitting them, as they didn't have rear access." Sliding doors, Origin. Walls throughout painted in Slate ll, Paint and Paper Library.
What Houzz users are commenting on:
Living Rooms with Similar Colours