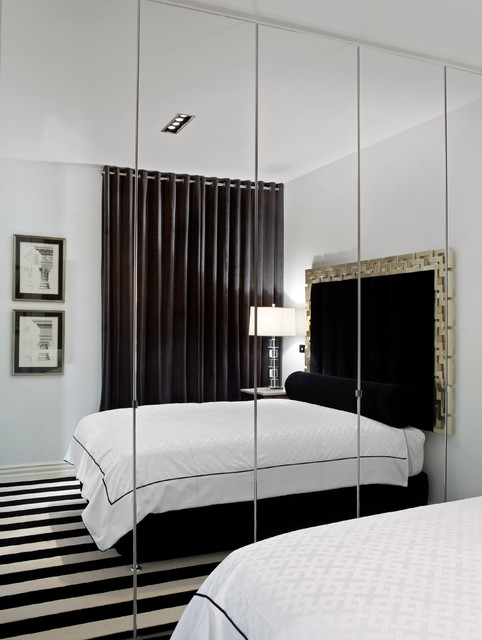 BY JADO DEVELOPMENTS & JADO DECOR CHRISTINE TSINGELIDIS COLE STREET
Contemporary Bedroom, Melbourne
Client's brief was clean sophisticated lines with minimalistic colour pallet. He requested that the space was designed to look very glamorous but still allowing him to entertaining comfortably. We combined old pieces like a pair of Louis chairs but gave them a modern twist with painting them in a high gloss black with a stripped Black Velvet fabric.
As the space was quite small we introduced items and furniture that wood give the room more visual space, like the glass and chrome coffee table and the mirrored obelisks.
In the bedrooms we designed a black and white carpet and used mirror panels on the wadrobe to open up what was a small bedroom. The colour on the walls was a white followed by high gloss white on all skirtings, doors. The kitchen wekept minimalistic lines and went with high gloss black which in contrast with the black walls was very striking.
Contemporary bedroom in Melbourne with feature lighting. — 
Houzz
What Houzz contributors are saying:

Cheryl Freedman added this to The Dos and Don'ts of Planning a Small Bedroom
30 May 2016
Do use mirrorsIt's the oldest trick in the book, but a wall of mirrored wardrobe doors will help a small room feel larger. Ensure the room is chic, simple and tidy, as here, though – reflected clutter and "floordrobes" can look twice as bad!See 11 tips for avoiding a "floordrobe"

Sophie Seeger added this to 7 Common Design Dilemmas and How to Solve Them
5 May 2016
Solution 2: Install a massive mirrorCreate the illusion of a larger room with mirrors. Floor-to-ceiling mirrors on a wardrobe or covering a feature wall will visually double the size of the room and bounce light around, too.Take a look at more bedroom design ideas
What Houzz users are commenting on:

rowenacherry403 added this to 6 i Tower Plaza
29 June 2021
A wall of mirrors with some closet behind would give the illusion of more space, but I am not sure if it would work with the half wall in the bedroom. Mirror that, too? "Guernsey" closet?