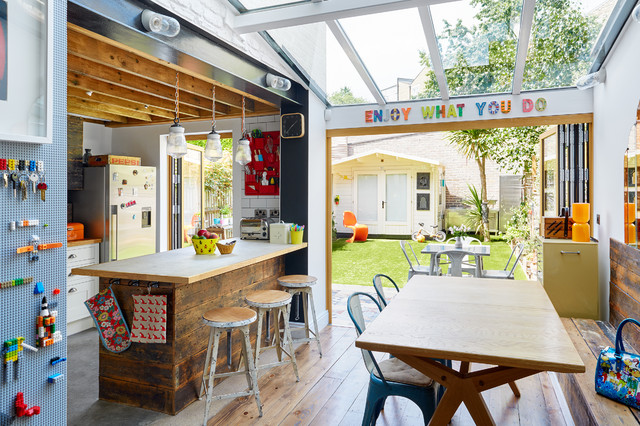 Colourful Islington Family Home
Eclectic Dining Room, London
The kitchen/dining area uses a range of textures and colours to create a warm, original space.

Photo Andrew Beasley
Inspiration for a medium sized eclectic kitchen/dining room in London with medium hardwood flooring. — 
Houzz
What Houzz contributors are saying:

Susannah Hutchison added this to How to Make the Most of the Space Above a Door
30 January 2018
Spell out a mantraWe all need a little day-to-day inspiration in our lives, and a few wise words above the door could be just the thing to jolly up you and your home. From colourful letters to ornate script, the choice of style – and words – is endless.

Kate Burt added this to How to Make Your Holiday Mood Last Longer Once You're Back Home
7 September 2017
Have a family breakfastIn a busy household it can be rare that the family sit down together to eat breakfast – unlike on holiday, where leisurely and chatty morning meals are pretty much the norm. So why not make the time to do it more regularly at home – it's a great way to start the weekend. Think about all the elements you like about holiday breakfasts – is it French bread and Nutella? A good tablecloth? Fresh, exotic fruit? Make it a once-a-week treat.

Kate Burt added this to 11 Secrets of British Eccentric Style
4 April 2016
Secret No 11: Cultivating confidence'If you're trying to be eccentric, you're probably not a true eccentric,' says Byam Shaw. 'However, what you can do is develop the confidence to express yourself. If you have a collection of plastic beetles you love, don't be embarrassed to put them out on show.' 'We aim to turn home design into a fun expression of a client's personality,' says Agathou. 'That's where interior designers can make a huge difference to the process. A designer who knows how to put things together will allow you to be brave.'Pictured here is Agathou's kitchen, complete with one of his mantras for life hanging above the garden doors. 'I believe life is a creative journey that should be lived to the full,' he says. 'That means not worrying about what others are doing, but finding your own pleasure in innovation and ideas. I don't set out to be an eccentric, but if that makes me one, then so be it!'What Byam Shaw says came out of the conversations with everyone she interviewed was that they really didn't care what other people thought of their taste; they knew what they liked and what made them happy, and that was what mattered.Agathou adds, 'I don't understand why anyone would design their home for the approval of others. We should always focus on what makes us happy. What's the point of the design otherwise?'TELL US…What defines 'eccentric' for you? Share your thoughts in the Comments below.
What Houzz users are commenting on: