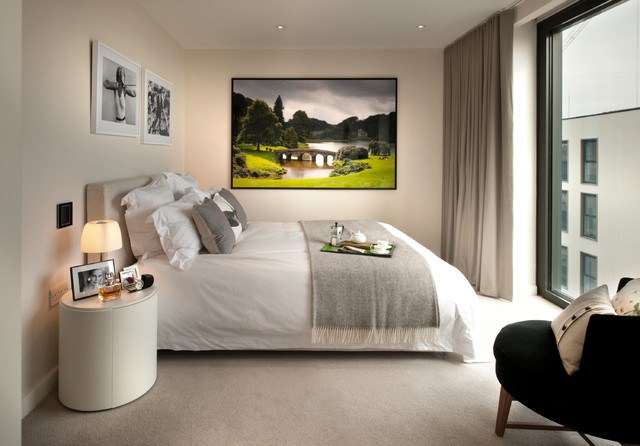 Penthouse refurbishment in London's Financial District.
Contemporary Bedroom, London
This bedroom consists of four zones; the main sleeping area with the TV hidden behind the curtain, the reading area of a very low armchair, the make-up desk area that is not visible in this shot and the dressing area.

Photographer: Philip Vile
Medium sized contemporary master bedroom in London with beige walls, carpet and beige floors. — 
Houzz
What Houzz contributors are saying:

Susannah Hutchison added this to Want to Wake Up Feeling Relaxed? Steal Tips From These Bedrooms
20 March 2018
Create a viewThe actual view from your window might well be next door's washing line or a big brick wall, so forget that and fake it with a picture instead. Choose a scenic view that you find relaxing, whether on a painting or a photograph, as seen here, and go large to really feel the benefit. Tell us…What do you think of these relaxing bedrooms? Share your ideas in the Comments section.

Susannah Hutchison added this to How to Decorate With Neutrals in a Bedroom
19 June 2017
Hang striking artworkKeeping the colour palette neutral in a bedroom provides the ideal backdrop for displaying bold art. This idea works particularly well in a space that lacks architectural features, such as this bedroom in a modern apartment, as it creates instant impact but in an unfussy way.

Елена Амбросимова added this to What's the Right Location for Your Bed?
31 October 2016
2. Conventional wisdom says you should have a good view of the door from your bed.But actually it would also be nice if the entire bed weren't visible from outside the open door.Humans have the same primal needs as other mammals in wanting to sleep in a secure location. This subconsciously drives us towards practical choices, such as wanting a safe distance from 'unsafe' objects, including doors and windows, and having a good view of any possible intruder without allowing an intruder to see us first, according to a 2010 study by Matthias Spörrle and Jennifer Stich of the University of Munich in Germany.
What Houzz users are commenting on:
Jennifer Stewart added this to ENTRY
7 February 2022
Like the painting /photo but also the whole room is beautiful with a sense of relaxation