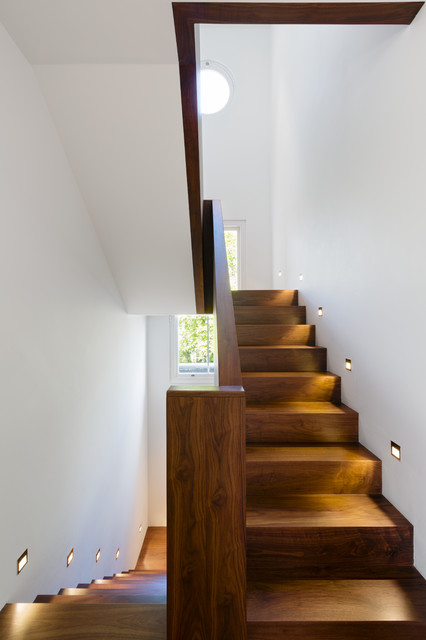 St Johns Wood
Contemporary Staircase, London
Inspiration for a medium sized contemporary wood u-shaped staircase in London with wood risers. — 
Houzz
What Houzz contributors are saying:

Amanda Pollard added this to 10 Things Your Parents Said That You Now (Unironically) Say, Too
21 February 2018
"Turn off the lights"When you were growing up, it might not even have occurred to you that your parents had to pay for things like electricity, water and gas – if your dad hadn't told you to turn off the lights around 80 times a day, that is. Which, of course, you never, ever did. Now, as a grown-up, in retrospect you can feel your parents' pain.Yes, the amount of electricity and bulb life you're using probably only costs a few pennies each time, but these things add up, and it's a colossal waste of energy.If you're the partner or adult who goes to bed first, there's also nothing more irritating than coming downstairs in the morning to find the whole house lit up like a Christmas tree yet again.Find new lighting ideas in the Houzz Shop

Sarah Warwick added this to 10 New Staircases That Make an Impact in Period Properties
30 August 2017
Take a biteThe rich chocolatey tones of American black walnut are enhanced by the inset lights on this staircase. Used for steps, posts and handrail, as well as flooring, the timber creates an impression of luxury. Stairs can be lit with strip lights beneath the overhang of each tread or with a series of lights, as here. Do you prefer contemporary or traditional staircases in a period home? Tell us in the Comments section.

Brilliant Lighting added this to Lighting: Reasons to Consider a Lighting Control System in Your Home
17 November 2015
Dim LEDs smoothly It can be tricky to control LED lighting with conventional dimmers; typical problems include flickering and erratic performance at low dimming levels. The best lighting control systems offer a whole range of dimming protocols (the language that the LED, the drivers and the lighting control system understand). Using components that all speak the same language gives simple, hassle-free dimming. Interested in installing LED lighting? Read this beginner's guide
What Houzz users are commenting on:
Staircases with Similar Colours